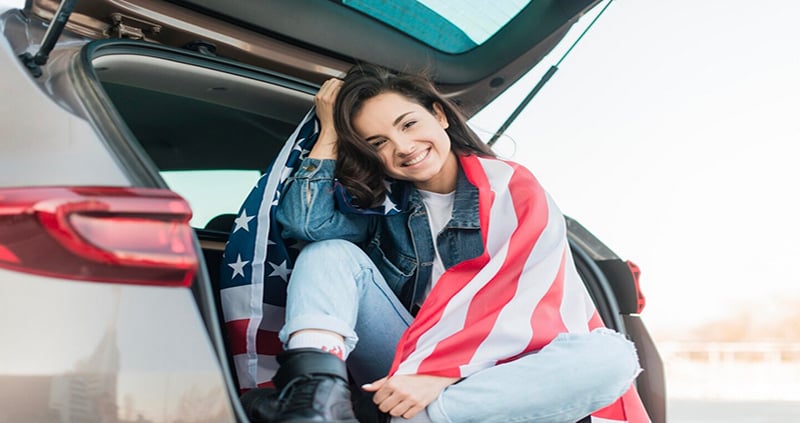 College students are often seen as a higher risk to insure because of their age. In fact, the Centers for Disease Control and Prevention has said that motor vehicle crashes are the leading cause of death for younger drivers in the U.S.
The reason for this is that younger drivers are more likely to underestimate or not recognize dangerous situations on the road. They are also more likely than older adults to make critical errors while driving, which can result in serious crashes.
It all boils down to gaining experience on the road. The good news is, as you age, your car insurance rates tend to go down.
Teenage drivers who are between 16 and 19 years old will be charged the highest car insurance rates out of all age groups.
Young adults aged between 20 and 25 years will start to see a significant reduction in their car insurance rates.
As a college student, or the parent of a college student, you may be wondering how you can get the cheapest car insurance.
In this article, we outline whether college students should stay on their parent's auto insurance policy, or get their own car insurance policy.
We will also review the best type of insurance coverage for college students and provide you with some insight into how much you can expect to pay for auto insurance from various car insurance companies.
Is It Cheaper for College Students to Stay on Their Parent's Car Insurance, or Get a Separate Car Insurance Policy?
Staying on your parent's car insurance policy can help you save money in certain instances. However, it's important to know that your parents will be paying more for their car insurance if they add you to their insurance policy.
You should try to stay on your parent's car insurance policy if:
The car is still in your parent's name.
You still live at home and drive to college using their car.
Your registered permanent address is the same as that of your parent's.
There are some exceptions when it comes to staying on your parent's car insurance policy.
For example, if you move to another area for college, it may be cheaper to get your own college student car insurance.
This is especially true if you live in a city and are attending college in a rural area. The car insurance rates for rural zip codes tend to be much cheaper than those for cities.
In addition, if either of your parents has a less-than-perfect driving record, they may already be paying more for car insurance as they will be seen by an insurance company as a higher risk to insure.
Lastly, if you are involved in a car accident or pick up speeding tickets, for example, this will increase the insurance premiums that your parents are paying. In this case, it may work out cheaper to have your own car insurance.
How Can Young Drivers Pay Less for Car Insurance?
As a college student, you may be able to get cheap car insurance by taking advantage of the student discounts that are available to you.
Auto insurers offer a range of discounts to students and this can help you save a lot of money on your car insurance bill.
Good grade discount
You could qualify for a good student discount if you maintain higher grades. Your insurance provider will advise you on what grade point average they expect from you to qualify for this discount.
For example, GEICO offers good grade discounts for students with B-average grades.
In order to qualify for a good grade discount, you will need to be under a certain age and be a full-time student.
Good driver discount
No matter your age, you will be rewarded with cheaper insurance rates if you maintain a clean driving record. This is because a driver with a clean record is a lower risk to insure.
When you demonstrate that you are a lower risk to insurers by avoiding traffic violations and accidents, your insurance company will reward you financially for keeping your risk to them as low as possible.
Away-from-home discount
If you attend school 100 miles or more away from home and do not have a car in your name, you may qualify for a discount designed for a student that lives away from their home.
The reason why you could be eligible for this discount is that you are less likely to return home often and use the family vehicle. This in turn poses less of a risk to the insurance company.
Multiple policy discount
Insurance companies prefer it if you keep several insurance services or products with one company.
As a college student, you may not be in the position to bundle car and homeowners insurance, but you could use renters insurance if you don't live at home.
When you combine your car insurance and renters insurance, you will become eligible for a multi-policy discount.
Occasional driver discount
Many insurers will offer you a discount if you only occasionally use the vehicle that you have listed on your insurance policy.
Asking about this discount makes sense when you are still on your parent's car insurance policy. But if you have your own policy and are the sole driver, this may not apply.
If you drive less than 25% of a car's mileage on a family insurance policy, it will be a good idea to inquire with your insurance company to see whether they offer this discount.
Organization affiliation discount
Insurance companies often collaborate with organizations in order to provide discounts to their members.
As a college student, you may be eligible for discounted car insurance through a fraternity, sorority, or honor society membership.
If you are not a member of one of these organizations, be sure to ask your insurer for a list of affiliation discounts to see whether you could benefit from cheaper car insurance under any of the other organizations that they work with.
How to Choose the Right Insurance Coverage for College Students
As a college student, there are many different types of auto insurance that you can choose from for your vehicle. Some of these insurance coverages are required by law.
These are some of the most common insurance coverages available:
Minimum liability car insurance
Liability insurance is mandatory in all states except Florida. This insurance is intended to protect you financially if you are at fault in an accident.
It includes two types of car insurance—property damage liability coverage and bodily injury liability coverage.
Property damage liability coverage helps pay for the cost of repairs if you are at fault in an accident and cause damage to another vehicle or an object such as a fence or building.
Bodily injury liability coverage pays for the medical costs of the people that are injured (excluding yourself), as well as any legal defense needed in the event that you are sued for damages.
When you receive your car insurance policy, you will see that liability coverage is listed using three numbers, for example, 25/50/10.
These numbers represent the dollar amounts that you will be covered for. In other words, in this instance, you would be covered for:
$25,000 for bodily injury per person.
$50,000 for bodily injury per accident.
$10,000 for property damage.
Each state has its own coverage limits. To find out what the coverage limits are in your state, you would need to check with your car insurance company.
Collision coverage
If you are involved in an accident with another vehicle or object, collision insurance will help you pay for damages to your vehicle, or even the replacement of your car.
Some examples of events where you may need collision cover include:
You swerve to avoid hitting an animal in the road and damage your car on a fence.
You park your car to run an errand and upon your return, find that someone has hit your parked car.
You brake too quickly and end up slipping on a wet road into another car.
No set limit applies—that is the maximum amount the insurance company will pay out—for collision insurance. Rather, your insurance company will cover you for the actual value of your car.
Comprehensive coverage
Should your vehicle get damaged due to anything other than a collision, comprehensive car insurance will help you to pay for the damages.
Apart from natural disasters such as hail, wind, flooding, lightning, and earthquakes, comprehensive car insurance also covers you in the case of:
Fire and explosions.
Riots.
Falling objects.
Damage caused by rodents.
Car accidents with animals.
Uninsured and underinsured motorist coverage
If you are involved in an accident and the other person is at fault but does not have auto insurance or their liability insurance is too low, uninsured and underinsured motorist coverage will help pay for any damages and injuries you sustain.
If you live in any one of the following states, this coverage is required by law.
Connecticut.
District of Columbia.
Illinois.
Kansas.
Maine.
Maryland.
Massachusetts.
Minnesota.
Missouri.
Nebraska.
New Jersey.
New Hampshire.
New York.
North Carolina.
North Dakota.
Oregon.
Rhode Island.
South Carolina.
South Dakota.
Vermont.
Virginia.
West Virginia.
Wisconsin.
Medical coverage
There are two types of medical coverage that may be optional or required, depending on the state that you live in.
Medical payments coverage will pay for medical injuries and funeral expenses.
Personal injury protection (PIP) will cover your medical injuries, funeral expenses, any lost wages, child care expenses, and rehabilitation.
Both of these medical insurance options will cover you regardless of who caused the accident.
The Best Type of Car Insurance for College Students
As you are likely to drive more as a college student compared to when you were in high school, it may be a challenge to decide which type of car insurance you should choose.
You will need to have basic coverage—that is minimum liability coverage—in place.
Knowing what other car insurance options to choose from will depend on a few additional factors, such as:
Your state
Do you experience severe weather conditions in your state? You may want to be financially protected against damage from hail, flooding, or wind damage.
Your residence
Is your home located in a safe neighborhood? If you live in an area where theft or vandalism is a problem, you may want to consider additional protection.
Your commute
Do you navigate a lot of traffic on your way to and from college? If you drive in heavy traffic every day, a collision is more likely to happen at some point. You may want car insurance that covers this possibility.
Who Is the Cheapest Car Insurance Company for College Students?
There are several great insurance companies that offer college students fantastic discounts on their car insurance needs.
We analyzed some of the best car insurance companies and the rates that they offer. In the table below, we provide the average premiums from 15 different insurance companies.
| | | |
| --- | --- | --- |
| Provider | Average Monthly Premium | Average Annual Premium |
| AAA | $60.33 | $724.00 |
| Esurance | $73.92 | $887.00 |
| Travelers | $88.46 | $1,061.50 |
| Liberty Mutual | $97.75 | $1,173.00 |
| The Hartford | $100.50 | $1,206.00 |
| Progressive | $106.21 | $1,274.50 |
| USAA | $122.69 | $1,472.33 |
| Geico | $147.94 | $1,775.33 |
| State Farm | $180.81 | $2,169.66 |
| Allstate | $188.79 | $2,265.50 |
| Auto-Owners | $217.08 | $2,605.00 |
| Farmers | $225.83 | $2,710.00 |
| American Family | $228.54 | $2,742.50 |
| Erie | $234.42 | $2,813.00 |
| Nationwide | $253.21 | $3,038.50 |
| National average | $390.75 | $4,689.00 |
While the national average for college students' car insurance is around $390.75 per month, this all depends on where you live and which provider you insure with, as well as the coverage that you choose.
To get an accurate idea of the cheapest car insurance for college students, you can use our quote finder to get dozens of cheap car insurance quotes from top insurers, quickly and easily.
Simply head to the top of this page, enter your zip code, and get your insurance quotes in seconds.
How to Purchase Car Insurance
Buying car insurance is not difficult. All you need is the right information at hand and a clear understanding of the coverage that you are looking for.
If you have decided that it will be best for you to get your own car insurance, or your parents have advised you to do so, then your next step will be to compare car insurance companies and their quotes.
1. Select a car insurance company
Not all car insurance companies will be able to assist you. It's important to review a few companies that you are interested in and decide if they will be a good fit for your needs.
To begin this process, you can head to the top of this page and enter your zip code. We will provide you with the best and cheapest car insurance options from a wide variety of insurers.
Choose an insurer that is licensed in your state
Not all carriers offer car insurance across the U.S. Make sure that the insurance company that you speak to, can assist you in the state where you live, or study.
Research reviews about the insurer online
Check what other clients say about how efficiently the insurer handles filed claims and approves claim payments. It's also a good idea to check how pleased other clients are with the customer service they receive from the company.
Ask for referrals
If your friends or family favor a particular insurer, find out why and investigate the company as a possible option.
2. Have all your personal information at hand
To get an accurate car insurance quote, you will need the following details:
Full name.
Date of birth.
Address.
Social Security number.
Car registration number.
The vehicle identification number (VIN), make, and model of your car.
3. Compare quotes
Once you have selected a few insurers that you are confident will be able to assist you with your auto insurance policy, call them up and ask for a confirmed auto insurance quote.
From here, you will be able to compare the insurance options that they are able to offer and select one that not only suits your needs, but also fits your budget.
4. Appoint a car insurance company
Having investigated all the auto insurance companies, you can now appoint the best company with the cheapest car insurance.
Be sure that they send you your insurance documentation—which is your auto insurance policy and your proof of insurance. Always check your auto insurance policy's wording to make sure that you understand exactly how you are covered.
Your proof of insurance is usually a paper card that is sent to you by your auto insurance company that lists your personal details and that of your car.
You will need to carry your proof of insurance with you at all times when driving.
Get Cheap Car Insurance for College Students Today with CheapInsurance.com
Not all auto insurance policies are created equal and finding a good policy at a fair price as a college student can be a time-consuming process.
Fortunately, we are here to help you find the insurance coverage that you need—at the best possible price.
All you need to do is head to the top of this page and enter your zip code. You will find a wide selection of insurance quotes to choose from.
Getting car insurance should be quick, simple, and stress-free, and you deserve to get the best insurance rates possible.
At CheapInsurance.com, we've got you covered!