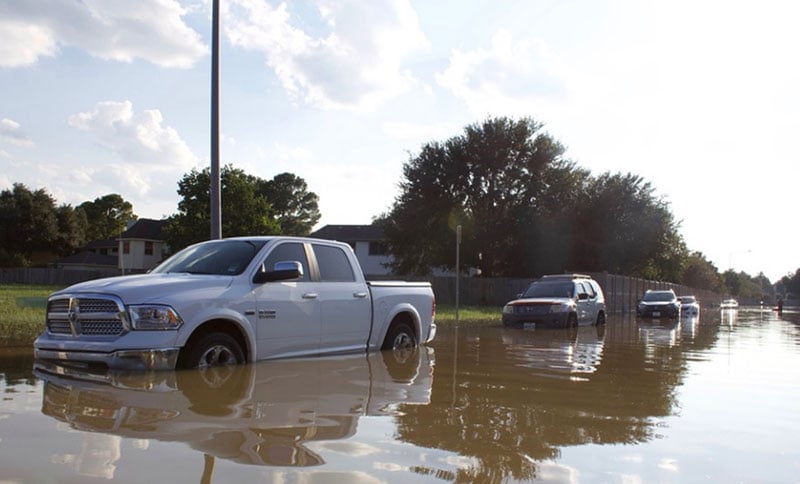 From hurricanes that destroy communities to rivers that overflow from huge seasonal downpours—flooding is the most common natural disaster in the U.S.
You may be thinking about flood damage and what it may cost to repair your vehicle if it's ever caught in this situation.
With the right auto insurance policy, you can protect yourself financially and cover the repairs to your vehicle if it's ever damaged after a flood.
In this article, we take a look at what flood insurance you should be considering for your vehicle. We will also answer a wide range of questions you may have about flood damage to your car.
Is My Car Covered for Flood Damage?
If you only have liability coverage in place, you won't be covered for flood damage.
On the other hand, if you have chosen comprehensive coverage for your car, or any of the other coverage options we mention below, the good news is that yes, your car is covered for flood damage.
Although the damage to your car will be covered by comprehensive insurance, you may need other coverages to help you settle a total loss or pay for rental car payments while your car is in for repairs.
What Types of Insurance Should You Choose to Cover Your Car for Flood Damage?
There are a few different types of insurance that you can select to make sure that you are covered in the event of flood damage to your vehicle.
Comprehensive insurance
Comprehensive coverage is designed to pay for any damage to your car that has been caused by accidents that don't involve hitting another vehicle or object.
In other words, if you are involved in a car accident, comprehensive car insurance won't cover the repairs to your car. For that, you would need collision coverage. Collision coverage is specifically intended to cover any repairs to your car related to a car accident.
When it comes to weather events, comprehensive insurance will cover you for:
Windstorms and tornadoes
Tornadoes and strong winds can cause objects to fly through the air, which may hit your car and damage it. If your car is damaged in any way because of a wind-related event, comprehensive insurance will pay for the repairs to your car.
Falling objects
Heavy storms often damage roofs, sending tiles flying and also dislodging trees, for example. This means that these objects could fall on your car. If your car is damaged by a falling object during a storm, your comprehensive insurance will cover it.
Hail
Hailstones can cause immense damage to your car, including extensive dents on the hood and roof, as well as cracked windshields. Comprehensive insurance will often pay for the repairs to your bodywork and for the replacement of your windshield.
Flooding
In any situation where heavy rains have caused flooding in your area, comprehensive car insurance will cover the repairs to your vehicle for mechanical as well as cosmetic damage.
Lightning
If lightning strikes a building or a tree for example—and any related objects damage your car—comprehensive insurance will cover the repairs that you need.
Gap insurance and loan coverage
An event such as an accident, flood, or theft may cause you to owe your lender more money than your car might be worth.
Your insurer will likely only pay you out the actual cash value of your car if it has been completely destroyed by a flood. In this case, you may owe more on your car than its estimated book value.
If your car has been declared a total loss and you are in this situation, gap coverage will help you to cover the difference.
Key Point: What Is Actual Cash Value?
The actual cash value of a car is how much it is worth today. This value includes the depreciation of your vehicle from the time that you've bought it and is the amount that your insurance company will pay out if your car is declared a total loss.
Your insurance agent will explain the amount that they will pay out after your car has been declared a total loss.
Rental car reimbursement coverage
Not only can catastrophic events like hurricanes and storms cause widespread damage, but the aftermath is another stressful matter that you'll need to deal with.
Auto body shops can get swamped with work after heavy flooding as many people may have severe damage to their cars.
This means that repair centers may be booked up for days or even weeks after an event, and it may take a long time for your car to be repaired.
Rental car reimbursement coverage is a type of insurance that will pay for a car rental when your vehicle is being repaired after an accident—or in this case, a flood.
This coverage will be a lifesaver if you need to commute a lot and is a form of insurance that you should definitely consider adding to your car insurance policy.
This form of insurance will often also cover ridesharing services and taxis.
Will Your Insurance Cover the Repairs to Your Engine after a Flood?
Flooding can cause damage to the engine, electrical system, and transmission of your car.
If your vehicle becomes completely submerged in water, it will often be declared a total loss because the damage to your engine would cost more to repair than what the car is worth.
Your comprehensive insurance covers flood damage to the body of the car and the engine. It may pay to repair or replace the vehicle at its actual cash value, if it's declared a total loss after a flood.
Will Liability Coverage Pay Out after Flood Damage?
Liability coverage is only intended to protect you financially in the event of a car accident where you are at fault.
This coverage, which is mandatory in most states, pays for damages to the other driver's car, as well as injuries and even the lost wages of the other driver and his or her passengers.
It is important to know that liability coverage does not protect your own assets or cover your own injuries in an accident.
Because liability coverage is not intended to pay for expenses related to flood damage, you would need to speak to your insurance provider about adding comprehensive coverage to your policy to repair or replace a flooded vehicle.
How Do You File an Insurance Claim for a Flooded Car?
After your car has been damaged by a flood, you will need to file a flooded car claim as soon as possible.
When submitting a claim for flood damage, you need to follow the same process as filing a claim for any other type of vehicle damage.
You will need to contact your insurance company's claim center or you can submit a claim online via their website or mobile app—if they have these options available.
Before contacting your insurance provider, take the following steps:
Take pictures
Take as many pictures of the vehicle and the damage as you possibly can. Be sure to capture images of any debris on, or stuck to, the grill, bumpers, and body of the car.
For the interior, take photos of the dashboard, flooring, and upholstery, as well as inside the trunk and engine compartment.
You can send these photos to your insurance agent as proof of the damage to your vehicle.
Have the vehicle inspected
Contact a mechanic and let them give you a detailed estimate of the damage to the engine and other mechanical parts of your car.
This will help you understand where your insurer may miss important details regarding certain damages and improve your chances of getting the right settlement amount paid out to you.
Check the Kelley Blue Book value of your car
The Kelley Blue Book is one of the oldest and most trusted resources to establish the current value of your car.
When requesting the value of your car, you will need to base the estimation on the condition of the car before it was damaged by a flood.
Knowing the Kelley Blue Book value of your vehicle will help you negotiate a fair settlement if your insurer declares the car a total loss and agrees to pay you the actual cash value of your car.
Will My Car Insurance Premium Go Up after a Flood Damage Claim?
If you need to submit a claim to your insurer for flood damage to your car, your comprehensive insurance policy premium may well increase.
If you live in an area that is subject to frequent flooding or natural disasters, your insurer will see you as more of a risk to insure because you may be more likely to submit a claim in the future.
If your car insurance premium does increase after a flood claim, it is important to know that this change will not be permanent. Most claims will be cleared from your insurance profile within three to seven years after the claim.
After that time, the insurance premium on your auto policy may not decrease to the same amount you were paying previously, but it will go down a bit.
How to Protect Your Car from Flood Damage
Staying ahead of severe weather events will help you protect your car from flood damage, and will ensure that your car insurance premiums don't increase after a claim.
To keep informed of imminent downpours and flooding threats, it helps to:
Download a weather app
If you take a look at the App Store or Google Play, you will find many great weather apps that you can download on your phone.
These weather apps can alert you early to imminent heavy rain and flood conditions so that you can take action before disaster strikes.
Two great apps include Dark Sky and Carrot Weather which both offer real-time and early-warning flood maps.
Have a plan
As soon as you know that there is a possibility of flooding in your area, make sure that you have a plan in place to relocate your car to a higher elevation, or a protected upper floor of a parking garage.
This will prevent your car from being damaged by heavy rains and flooding.
Get Cheap Car Insurance Today with CheapInsurance.com
Flooding is a common occurrence in many parts of the U.S. and filing a claim can mean that you will face higher premiums in the future.
If you have had to file a claim in recent months or years, it may be time to start shopping around for alternative insurance quotes to see if you can save on your car insurance.
However, not all auto insurance policies are created equal, and finding a good policy at a good price can be a time-consuming process.
Fortunately, CheapInsurance.com is here to help you find the insurance coverage that you need—at the best possible price.
All you need to do is head to the top of this page and enter your zip code. You will find a wide selection of insurance quotes to choose from.
Once you have an idea of the auto insurance premiums that you could be paying, it will be time for you to contact the insurers that are offering you the cheapest rates to get a formal quote.
Getting car insurance should be quick, simple, and stress-free, and you deserve to get the best insurance rates possible.
At CheapInsurance.com, we've got you covered!