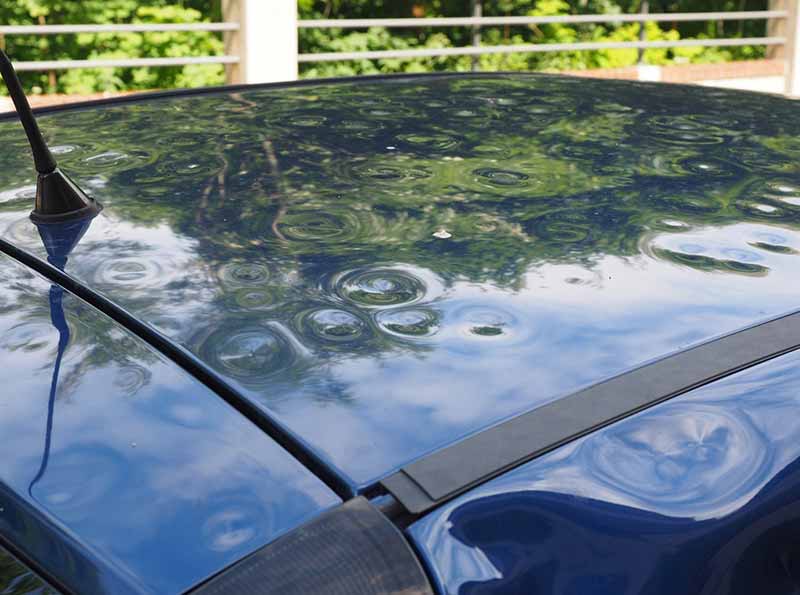 Severe weather can seriously damage your car, and one of the most damaging weather events is hail.
In fact, there were over 3,700 hail storms in the U.S. in 2021, which caused billions of dollars' worth of damage.
If your car has been damaged by hail, you may be wondering what to do next.
In this article, we take a look at when you may or may not be covered for hail damage and provide you with all the information you need in order to make a claim.
Where Is Hail Most Prevalent in the United States?
Texas is the state where hail storms are the most common. This means that Texas drivers are more likely to file an insurance claim for hail damage than in any other state.
The top ten states for hail claims between 2018 and 2020 include:
| | |
| --- | --- |
| Rank  | State |
| 1 | Texas |
| 2 | Colorado |
| 3 | Illinois |
| 4 | Missouri |
| 5 | Minnesota |
| 6 | Kansas |
| 7 | Nebraska |
| 8 | Iowa |
| 9 | Oklahoma |
| 10 | South Dakota |
When Does My Car Insurance Policy Cover Hail Damage?
Not all car insurance policies cover hail damage. In order for you to have your car repaired after a hail storm, you will need comprehensive coverage. This is the only car insurance that will cover hail damage.
If you only have liability insurance, your insurance company will not cover any damage to your car from hail.
What does comprehensive insurance cover?
Comprehensive insurance coverage helps pay to repair or replace your vehicle if it is damaged in an accident that is not a collision.
When you carry comprehensive coverage, you will be covered for storm damage, animal damage, and falling objects—including hail.
Hail damage will result in dents on the bodywork of your vehicle and even a cracked or smashed windshield or window. Hail may also cause water damage to the interior of your car.
What does liability insurance cover?
Liability insurance is intended to cover another driver and his or her passengers in the event of a collision.
This coverage includes damage to the other vehicle and the medical costs of the other driver and passengers.
Liability insurance coverage does not cover damages to your car in an accident.
To have your own vehicle repaired after a collision, you will either need comprehensive insurance or you will need to pay out of pocket for damages.
Is It Necessary to Pay a Deductible for Hail Damage?
Car insurance usually comes with a deductible. This is the amount of money that you need to pay when you make an insurance claim.
For example, if it is going to cost $5,000 to repair hail damage and you have a deductible of $500, your insurance company will pay $4,500 toward the repair costs, while you will need to pay $500.
Having a higher deductible on your insurance policy will help lower your car insurance premium. If you, however, live in an area where hail storms occur often, then you may want to consider whether you'll have the savings needed to pay that higher deductible.
There are certain circumstances where your insurance adjuster may waive the deductible on the glass portion of your comprehensive coverage.
For example, if your windshield can be repaired rather than replaced, then your insurer may waive the deductible that you usually would have had to pay.
In addition to this, it is helpful to know that you can purchase full glass coverage as part of your auto insurance policy.
This typically means that you will not have to pay a deductible on glass claims.
Key Point: What Is Full Glass Coverage and Why Is It Useful?
Full glass coverage on your auto insurance policy provides you with insurance cover to get a window or windscreen on your vehicle fixed, without paying a deductible.
Full glass coverage includes:
Windshields
Windows
Rear windows
The types of repairs that can be done range from chipped, cracked, or broken glass. This cover also allows for your windows or windscreen to be replaced if and when necessary.
Will Filing an Insurance Claim after a Hail Storm Impact My Car Insurance Premium?
If you do need to make an insurance claim for hail damage to your vehicle, that claim may appear on your insurance record.
This means that when your insurance company reviews your car insurance policy, they may increase your premium if you have put in a few claims over the last year.
If you live in an area where hail damage is likely to occur, it is a good idea to keep your car safe by parking it in a covered parking lot or in a garage.
This will reduce the likelihood that your comprehensive insurance cost will increase.
How Do You Claim for Hail Damage to Your Car?
If you have comprehensive coverage, be sure to contact your insurance company as soon as possible after the damage has occurred.
Step One: Document the damage to your car
Be sure to take photos of all the hail damage that your vehicle has sustained. This will help you when you need to provide proof of the incident to your insurer when making a hail damage claim.
Step Two: Get an estimate from a car repair shop
To ensure that you get your car repair costs covered by your insurance company, it is best to make sure that you have an idea of how much it is going to cost to repair your vehicle.
This guarantees that your insurer will pay out the right amount of money to repair the vehicle, and it also helps you decide whether you should claim or pay for the repairs out of pocket.
Step Three: File a comprehensive insurance claim
The reason why we recommend steps one and two is that some insurance adjusters may not accurately assess the extent of the hail damage, and this leads to a lower, inaccurate estimate.
Once you have your photographic evidence and a quote from a body repair shop, you can begin the process of filing a claim with your insurer.
Each insurance company works slightly differently when it comes to processing a claim. Your insurance adjuster will guide you through the process.
Step Four: Choose a reputable repair shop
Once you have finalized your car insurance claim with your insurer, you can look for the most suitable body shop to repair your vehicle.
Some insurance companies may write you a check for the expected cost of the repairs, minus your deductible, while other companies may wait and reimburse the body repair shop directly.
Step Five: Schedule the hail damage repair
Once the car insurance claim has been finalized, it will be time to take your car in for repairs.
Your car insurance company may recommend paintless dent removal, which is a quick, simple repair option.
Alternatively, if the damage to your car is extensive, you will need to wait up to a few weeks for your car repair shop to attend to your repairs.
This is especially true if there has been widespread damage and there are other drivers booking their cars in for repairs as well.
If you have taken rental car insurance as part of your car insurance coverage, you will be able to rent a car for the time that your vehicle is in for repairs.
Key Point: What Is Rental Car Insurance?
Rental car Insurance, also known as rental reimbursement coverage, is not a mandatory type of insurance.
It's an additional insurance option for people who do not have access to another car or public transport if their vehicle has been damaged in an accident.
Your insurance company will typically cover a car rental in the event of:
At-fault accidents involving other vehicles or stationary objects.
Acts of nature, such as hail, tornadoes, or hurricanes.
Falling objects, such as rocks or trees.
Theft.
Fire.
Accidents involving animals.
As a rule, there is no deductible that you will need to pay on rental car coverage.
Can Hail Damage Total Your Car?
Bad hailstorms can cause irreparable damage to your car. This is because hailstones typically hit the entire car, which means that the whole vehicle will probably be damaged.
Significant damage caused by hail is extremely expensive to repair, in which case insurance companies will likely write the vehicle off.
If your insurer has deemed your car a total loss, they will write you a check for your car's actual cash value, minus your deductible.
Key Point: What Is Actual Cash Value?
Actual cash value (ACV) is the amount that insurers will pay you to replace your stolen or damaged vehicle, minus depreciation, at the time of the loss. ACV is not meant to replace your car, but rather pay you for its current book value.
To understand and check the ACV of your car, you can consult the Kelley Blue Book. This is a resource that is widely used by the automotive industry and individuals to estimate the value of a vehicle.
Is Hail Damage Repairable?
Hail damage is repairable if the harm has not impacted the structural integrity of the vehicle.
If the hail damage to your car is not too severe, then it can be repaired using a process called 'paintless dent removal'. During this process, the dented areas are gently pushed back to their original position.
Other repair methods that involve traditional bodywork are more expensive and time consuming. Here you can expect the body shop to fill and repair dents or replace damaged panels.
Get Cheap Car Insurance Today with CheapInsurance.com
If you have had to file a claim to repair hail damage to your car and are worried about your car insurance premiums increasing, it may be time to start shopping around for alternative car insurance quotes.
Not all auto insurance policies are created equal and finding a good policy at a fair price can be a time-consuming process.
Fortunately, we are here to help you find the insurance coverage that you need—at the best possible price.
All you need to do is head to the top of this page and enter your zip code. You will find a wide selection of insurance quotes to choose from.
Once you have an idea of the auto insurance premiums that you could be paying, it will be time for you to contact the insurers that are offering you the cheapest rates to get a formal quote.
Getting car insurance should be quick, simple, and stress-free, and you deserve to get the best insurance rates possible.
At CheapInsurance.com, we've got you covered!