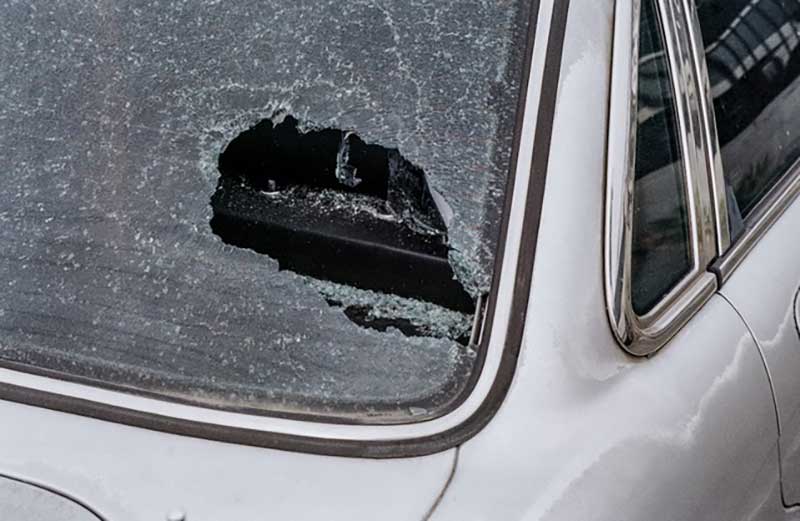 Imagine you walk out of a grocery store, push your shopping cart to your car, open the trunk, and see something suspicious.
You notice a long, ugly scratch on your car running all the way from your left taillight to the handle of the left rear door. You look around—the perpetrator has fled the scene.
This is just one of the many ways your car can get vandalized.
If something like that ever happens to you, you will, of course, fume with helpless anger. You may also wonder: What do I do now? Must I file a police report? Will my insurance pay for the cost of the repair?
In this article, we take a closer look at what car vandalism is, what to do if your car is vandalized, and how to find affordable car insurance coverage for acts of vandalism.
Firstly, What Is Car Vandalism?
Car vandalism is any non-collision type of damage caused intentionally by a person to another vehicle. It can occur when you leave your car parked on the street, in your driveway, or in a public parking lot.
Here are some examples of auto vandalism:
Stolen or slashed tires: This is typically an expensive act of vandalism, because you have to pay for the tires and get your vehicle towed.
Body damage or defacement: This happens when someone either scratches your car with a sharp object—for example, a key, dents it, or spray paints something on it. The repair costs depend on the nature of the damage. Sometimes, you may need a new paint job.
Smashed mirrors or lights: Mirrors and headlights are popular targets of vandalism. Replacement costs can be high if your car is very expensive.
Broken windows: While replacing a broken window is relatively inexpensive, this act of vandalism is usually linked with theft. Be sure to make a list of anything that's missing from your car if you notice one of your windows has been smashed.
Distinguishing between different acts of vandalism is especially important when it comes to filing a car insurance claim.
Repair costs vary based on your car's make and model, as well as the extent of the damage, but you can expect the costs to be rather steep. Insurers will only help cover the costs if you have the right coverage in place.
What Insurance Covers Car Vandalism?
Your car insurance will cover vandalism damage, but only if you have a comprehensive policy.
Car insurance is regulated at the state level and each one has different laws. However, most states impose mandatory liability coverage—which helps pay for the other party's damages from an accident you cause.
Comprehensive insurance is optional coverage. It covers damage to your own vehicle that's caused by something other than an actual collision. Comprehensive insurance does not cover the costs of car crashes or collisions.
Examples of the events that comprehensive coverage covers, include:
Vandalism.
Car theft.
Civil disturbances.
Natural disasters.
Incidents involving animals.
Glass damage from road debris.
Most weather events like hail.
However, some insurance providers have specific exceptions, such as floods.
Comprehensive car insurance is not mandatory, but buying a such policy may be a good idea, depending on your circumstances.
Consider your budget, your car's value, and the risk of car vandalism and car theft in your area—then decide if you should buy a comprehensive policy.
Keep in mind that a comprehensive claim usually involves paying a deductible.
Key Point: What Is a Car Insurance Deductible?
A comprehensive car insurance policy includes a deductible amount. This is the amount that you will have to pay out of pocket before your car insurance company will pay for the cost to repair your vehicle.
Let's say your car repairs amount to $1,200 and your deductible is $500, the insurer will pay $700, and you will pay $500.
If your deductible is higher than the cost of the repair, you will need to pay the full amount. This is because the insurer will only cover damages above your deductible amount.
Car insurance deductible amounts vary. Some insurance companies set deductibles as a percentage of the total claim, but most offer a range of fixed amounts.
Drivers usually choose a $500 deductible. A higher deductible typically means that you will have lower insurance rates, but will need to pay more out of pocket in the event of a claim.
A comprehensive insurance policy may save you thousands of dollars if your vehicle is seriously vandalized.
However, a comprehensive auto policy does not cover any personal property that might be damaged or stolen at the same time.
That will need to be covered by your homeowners insurance or renters insurance policy, which also typically comes with its own deductible.
Key Point: What Do I Do If I Don't Have Comprehensive Insurance and My Car Is Vandalized? 
Without comprehensive coverage, you will be responsible for paying your vandalized vehicle's repair costs. Your best bet will be to shop around for a reputable low-cost repair shop.
In any case, you should file a police report. Even though the chances that you will recover any money are slim, the perpetrator might be caught and tried for a misdemeanor or felony.
If you're not sure whether you have comprehensive coverage, check the declaration page of your insurance policy—it's usually to be found at the front of the document.
And if you are concerned about future damage from vandalism or theft, you may want to take out comprehensive car insurance.
As a first step, head to the top of this page and enter your zip code. You'll be able to browse through various car insurance quotes and choose one that suits your needs and budget.
Should I File an Insurance Claim after My Car Is Vandalized?
Even if you have comprehensive coverage, you first need to do some math and decide if you want to file an insurance claim.
Take a look at your comprehensive auto insurance policy and note the deductible amount you'll have to pay before you are paid out any insurance money. Then get a repair estimate.
If the cost to repair your vehicle is not much more than your deductible, it might not make sense to file a claim at all.
Let's take a look at this example. Somebody scratched your car with a sharp object and your neighborhood auto paint shop tells you that the repair would cost $550.
You know that your comprehensive coverage includes a $500 deductible. If you file a claim, you would get only a $50 contribution toward settling the cost from your auto insurer.
It's also a good idea to ask your insurer whether filing a claim would lead to an increase in your auto insurance rates. If the answer is yes, the increase might quickly exceed the $50 you got from your insurance company.
In a case like that, it is better to pay for the repair out of pocket, without filing a claim.
How Do I File a Car Insurance Claim for Vandalism?
The best way to ensure your auto insurance claim goes smoothly is to follow these steps:
Take photos of the damage on the day and note details such as location, date, and estimated time.
If the act of vandalism occurred in a space covered by cameras, get a copy of the video footage if you can.
Ask around for any witnesses and take their contact details.
File a police report at the local police department and note the police report number. This is necessary for filing a claim.
Contact your insurer. They will send a claims adjuster, who will survey the damage and give you instructions about the next steps to take.
Get the damage to your vehicle repaired. Your insurer may ask you to use a specific repair shop.
Save any receipts or documents related to the repairs.
Your auto insurer will either pay you the amount above the deductible, or directly pay the repair shop.
As you can see, the claims process is rather straightforward, but it needs to be followed precisely.
Will a Vandalism Claim Increase My Auto Insurance Rate?
A comprehensive claim usually does not impact your insurance rate as much as a collision claim would. Filing a vandalism claim may not increase your monthly premium at all, or it may increase it by a small percentage.
Whether your auto insurance rate will increase after a vandalism claim depends on your:
Insurance provider.
The extent of the damage.
The state you live in.
The number of claims you file.
The more claims you file, the more likely it is that your insurance company will raise your premium.
Of course, keep in mind that in most cases you will need to pay the deductible amount when filing a car vandalism claim with your insurance provider.
Key Point: How Do I Protect My Car from Theft and Future Vandalism Incidents?
There are several simple steps you can take in order to lower the risk of experiencing car vandalism.
Equip your vehicle with an alarm system to deter criminals.
Don't leave any valuables in your car. As a matter of fact, don't leave anything in plain sight in your car. A thief can easily mistake a stadium seat cushion for a laptop and break your car's window to steal it.
Park in well-lit areas. This may help deter vandalism.
Park in a covered area or a garage. It is more difficult for vandals  to move in and out of closed areas.
Tuck in your car's wing mirrors.
Avoid leaving your car parked in deserted spots.
Find the Best and Cheapest Car Insurance Today, with CheapInsurance.com
If you're worried about vandalism, a comprehensive auto insurance policy is a great option. The cost of comprehensive coverage varies from state to state and depends on many factors, but is much cheaper than most other types of coverage.
Remember, comprehensive car insurance not only covers damages that stem from vandalism, but also from natural disasters and theft. This type of insurance carries a deductible amount that is payable by you in case you file a claim.
If you're looking for a new insurer or want to compare car insurance quotes, look no further than CheapInsurance.com!
All you need to do is enter your zip code at the top of this page, fill in the form, and our free quote generator will give you several competitive insurance coverage quotes, tailor-made for you.
Once you have an idea of the car insurance premiums you could be paying, contact the car insurance company that offers the best rates to get a formal quote.
With CheapInsurance.com, getting the best comprehensive car insurance rates from top insurance providers is a free, quick, simple, and stress-free process.
At CheapInsurance.com, we'll help you save time and money by finding the best and cheapest car insurance quotes at the click of a button.