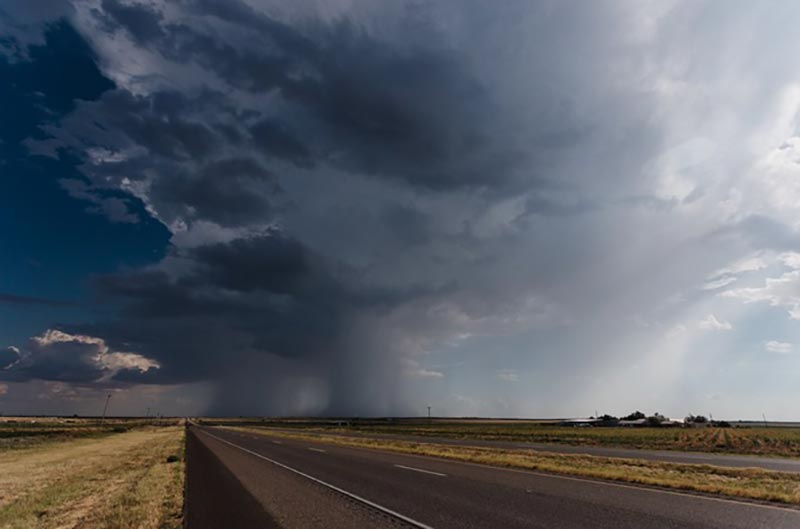 In an average year, the U.S. experiences roughly 1,200 tornadoes. Most tornadoes occur in the Central Great Plains in an area known as Tornado Alley—with Texas, Alabama, and Mississippi seeing the highest number of tornadoes every year.
A tornado can cause an enormous amount of damage—it can be powerful enough to break a car's window, flip a car over, or even pick a car up and drop it in another location.
In addition to this, falling trees and powerlines, as well as anything that can become airborne can damage your car during a tornado.
Apart from wind, tornadoes bring heavy rains and often severe hail. Wind, flooding, and hail storms can cause significant damage to your car.
The question is whether or not your auto insurance will cover the repairs to your car—or its replacement—after a tornado. In this article, we aim to find out.
What Type of Car Insurance Coverage Do I Need to Have to Be Covered In the Case of a Tornado?
Most states in the U.S. require drivers to have a minimum amount of liability car insurance in order to legally drive a car.
If you are at fault in a car accident, liability insurance covers the other person for property damage and any injuries.
However, liability coverage will not pay for repairs to your vehicle if it is damaged in a tornado or another storm.
The auto insurance policy that you will need to cover you if your car is damaged or totaled after a tornado is comprehensive insurance.
Under comprehensive coverage, your insurance company will pay for repairing any damage to your car that are caused by:
Flying debris and objects.
Falling trees and tree branches.
Downed power lines and electrical damage.
Lightning.
How Will a Comprehensive Car Insurance Policy Cover Damage from a Tornado?
When you carry comprehensive coverage, the damage that a tornado does to your car will be paid for by your insurance company, minus your deductible.
Key Point: What Is a Deductible?
A deductible is the amount of money that you need to pay toward a covered claim, before your insurance company will pay out the rest.
For example, if the damage to your vehicle equals an amount of $4,500 and your deductible is $500, this means that your insurance company will contribute $4,000 to the damage repair costs, after you've paid the $500.
Let's take a quick look at a possible scenario where your comprehensive insurance would provide coverage for damage sustained during a tornado.
Imagine that your car is parked in your driveway when a tornado sweeps through your town.
Gravel from your neighbor's driveway gets carried into the wind and the stones slam against your parked car, causing the windows of your car to shatter.
Not only that, your doors are damaged with countless dents as a result of the flying gravel.
After the storm passes, you go outside to inspect the damage and realize that your car's doors and windows are severely damaged and need to be completely replaced.
The next day you head to your local body shop and they quote you $3,500 to repair all the damage.
Because the cost of the repairs is well under the actual cash value (ACV) of the car, your insurance company reimburses you with a check for $3,000, after you've paid your $500 deductible.
Key Point: What Is Actual Cash Value (ACV)?
The actual cash value of your car is the amount of money that it is worth today. This value includes the depreciation of your vehicle over time.
To find out what the ACV of your car is, the Kelley Blue Book—which is a trusted resource used by car dealerships countrywide—can provide you with an accurate idea of the value of your car.
It is important to remember that the damages to your car are probably not the only costs that you need to consider after sending your car in for repairs.
In all likelihood, you will probably need to rent a car while your car is at the body shop. If you have added optional car rental to your comprehensive insurance, your insurer will cover the cost of this rental for the time that your car is at the body shop.
What Happens If Your Car Is Totaled by a Tornado?
If your car is declared a total loss, comprehensive insurance will reimburse you up to the actual cash value (ACV) of your car, minus your deductible.
A total loss will be declared after an insurance claims adjuster decides that the cost to repair your vehicle will be greater than the actual value of the car itself.
To calculate total loss, your insurance adjuster will visit you to inspect your vehicle and assess the extent of the damage, as well as the value of your car.
They will take into account the make, model, and year of the vehicle, as well as its history of accident repairs.
If the cost to repair your car is above a certain percentage of its value, it will be declared a total loss.
How Do You File a Comprehensive Claim after a Tornado?
Be sure to file an insurance claim as quickly as possible if your car has sustained damage after a tornado.
To do this, simply call your insurance company and have your auto policy number on hand.
Remember that after a serious weather event such as a tornado, insurance companies and body shops will be overwhelmed with insurance claim requests.
Getting your claim actioned quickly will save you days or weeks of waiting for reimbursements and repairs to be done.
Taking photos of the damage to your vehicle after the storm will help to speed the process along.
When you do take photos, be sure to take pictures of the scene as well, before clearing up the mess.
How Can You Protect Your Car from Tornado Damage?
Going through the claims process with your insurance company can take time and also be frustrating.
To avoid your car being damaged in a tornado, there are a few precautions that you can take if these violent weather events are common in your area.
If you realize that your city or town is in a tornado's path, try to find a garage or covered parking area in which to park your car.
If you don't have access to these, then try to be aware of the surrounding area where your car is going to be parked during the storm.
Avoid densely wooded areas, or parking under trees. Falling branches could damage your car.
Don't park near telephone poles or electricity pylons.
Park away from gravel areas, or anywhere with unsecured furniture that could be picked up by heavy winds.
Stay away from low-lying areas which will be more prone to flooding.
Will a Tornado Claim Increase Your Auto Insurance Premium?
Unfortunately, any claim made with your insurance company will likely increase your auto insurance rates, including a claim made after a tornado.
However, with comprehensive coverage, after having submitted a claim following a tornado, your insurer won't increase your premiums as much as they would after an accident.
This is because the tornado was not your fault. If your insurer does want to increase your auto insurance rates after a tornado-related claim, then it may be time to start shopping for cheaper car insurance rates.
Get Cheap Car Insurance Today with CheapInsurance.com
Experiencing a tornado is incredibly traumatic and stressful, and the last thing you need is for your auto insurance rates to be pushed up after a claim you could not avoid.
Fortunately, we are here to help you find the best car insurance rates with the top auto insurance companies in the U.S.
All you need to do is head to the top of this page and enter your zip code. You will find a wide selection of insurance quotes to choose from.
Once you have an idea of the auto insurance premiums that you could be paying, it will be time for you to contact the insurers that are offering you the cheapest rates to get a formal quote.
Getting car insurance should be quick, simple, and stress-free, and you deserve to get the best insurance rates possible.
At CheapInsurance.com, we've got you covered!