Will Insurance Pay For A Rental Car During Repairs?
Over 90% of American households own at least one car. Many of us greatly value the mobility and independence that having a vehicle offers.
But what do you do if your car has to go for repairs following an accident?
You may rely on your friends to drive you around, or you may rent a car—either will work for a few days. However, this isn't always convenient and renting a car can quickly become expensive.
Although public transportation is a good option, it only works for people that live, work, and shop in urban areas.
If you have to be without your ride for a week or longer, the best solution would be to ask your auto insurance provider to supply you with a rental car during the repairs period. But does your insurance cover a rental?
In this article, we outline everything you need to know about:
Rental car coverage in your insurance policy.
How rental car reimbursement works.
What you can expect to pay.
Whether rental car coverage is worth the higher premium.
Does Car Insurance Usually Cover Rental Car Costs?
When you purchase car insurance, you select the coverage that suits your needs and budget. Policies vary from insurance company to insurance company, and so do the rates.
Most insurance companies offer minimum liability, collision, and comprehensive car insurance.
Minimum liability insurance is mandatory in most states. If you opt for this type of policy, you won't be able to get a rental car from your insurance provider while yours is in a repair shop.
This is because minimum liability coverage typically does not include rental reimbursement insurance. It only pays out for at-fault bodily injury and property damage caused to others.
Key Point: What Is Bodily Injury and Property Damage Cover?
Car owners in most states must take out minimum liability car insurance, which includes bodily injury and property damage coverage.
Bodily injury liability coverage: Let's say you knock down a pedestrian or cause an accident and injure the other driver. This coverage will pay the medical costs of the people you injured, but not yours.
Property damage liability coverage: Let's say you crash your car into another vehicle or a fence. This coverage will pay for damage to other people's property, but not for damage to your car.
In both cases, minimum liability insurance coverage will help pay for legal defense in the event of a lawsuit.
Some insurers will let you add a rental policy to comprehensive insurance, without making you take collision cover, too. However, then you wouldn't get a rental car in case of a collision.
Key Point: What Is Comprehensive and Collision Coverage?
Comprehensive coverage protects you if your car is damaged or lost due to any non-collision event, such as fire, hitting an animal, theft, vandalism, hail, or a hurricane.
Collision coverage helps to pay for repairing or replacing your car if it is damaged in an accident, regardless of who is at fault. The accident could be a collision with another vehicle or a street lamp.
Topping up your minimum liability coverage with comprehensive and collision policies is generally considered full coverage.
To find out whether your car insurance covers a rental car, look for rental car reimbursement coverage in your policy or speak to your insurance agent.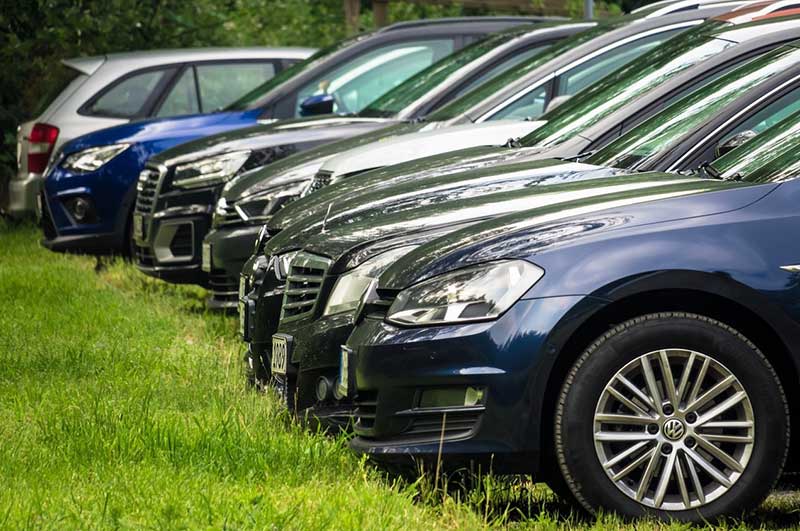 What Is Rental Reimbursement Coverage?
You may find your independence severely limited if your car is damaged and needs repairs. At a time like that, it's nice to have access to a rental car—compliments of your insurance company.
That is exactly what you get if you have rental car reimbursement coverage. Your car insurance company will pay for a rental car while your vehicle is at the body shop.
Rental reimbursement is an optional coverage that you can add to your comprehensive and collision insurance.
However, this coverage is not automatically included when you purchase comprehensive and collision auto insurance—you would have to ask your insurance provider for it.
You will usually be able to review several different car rental options and choose the level that suits you best.
Every car in your household needs a separate rental reimbursement coverage, even when you share a plan with the same company. You can add this coverage at any time, not just at renewal.
It's important to note that many insurance companies will add rental reimbursement coverage only if you take out comprehensive and collision policies.
As a rule, there is no deductible on rental car coverage.
Key Point: What Is a Deductible?
A deductible is an amount you pay before your auto insurance covers the rest of the claim.
Since car rental coverage is an addition to your auto insurance policy, it typically does not include a deductible.
However, primary comprehensive and collision coverage both have a deductible amount.
When Does Car Insurance Cover Rental Costs?
As long as rental reimbursement coverage is included in your policy, your insurance will authorize you to use a rental car when your car needs repairs after a covered claim.
Your insurance will typically cover a car rental for these events:
At-fault accidents involving other vehicles or stationary objects.
Acts of nature such as hail, tornadoes, or hurricanes.
Falling objects, such as rocks or trees.
Theft.
Vandalism.
Fire.
Accidents involving animals.
If your car needs repairs after an accident that was the fault of another driver, their insurance should cover the cost of a rental car. But determining whose fault an accident was can take time.
It is recommended that you purchase rental reimbursement coverage and leave it to your auto insurance provider to recover the costs once the other driver's fault has been established.
When will car insurance not cover a rental car?
Insurance covers rental reimbursement only if your car needs repairs after a covered loss. You will not get rental reimbursement coverage if:
Your vehicle is in the repair shop undergoing routine maintenance, or for mechanical issues such as engine failure, faulty brakes, or fluid leakage.
You didn't have rental reimbursement on your policy before the accident. You cannot take out rental cover after an accident, but you can add it for future accidents.
You are out of town and want to rent a car at your destination.
How Does Rental Car Reimbursement Work?
It's relatively easy to get rental car authorization soon after a covered claim, provided you have the necessary auto insurance and have purchased car rental coverage. All you need to do is follow these steps:
File an insurance claim. In most cases, you will be able to do this online.
Your car insurance company will let you know whether they partner with a car rental dealer, in which case they will pay the dealer directly. If not, you may have to pay up front and submit receipts to your insurance provider to get reimbursement.
Go to a rental car company and select your rental car.
Some insurers will let you use your rental car reimbursement to pay toward public transport and taxis.
Speak to your auto insurance provider to see what options you have available in your rental car reimbursement policy.
How much will insurance pay for a rental car?
When choosing your ride at a rental company, it's tempting to go for an expensive vehicle that catches your eye—after all, your insurance is paying for it.
However, it would be much wiser to think this through properly. Remember that your reimbursement has a daily and overall limit, which varies from provider to provider. For example, your insurance company may set a daily limit of $40 and a total limit of $1,200 per claim.
If you drive away with a vehicle that ends up costing more to rent than the limit your provider had set, you will need to pay the difference out of your pocket.
How long will a rental car be covered for?
Your insurer will typically let you have a rental car for up to 30 days. Some providers state that you can drive a rental car until yours is fixed, or until you get compensation for the loss of your vehicle.
The exact details vary widely, depending on the insurance company and your policy. Check the limitations to avoid paying hefty amounts out of your pocket.
Who Pays for a Rental Car after an At-Fault Accident?
As a rule, the collision or comprehensive coverage you have on your auto insurance policy will also cover a rental car, so you don't need to buy additional insurance from a rental agent, which is usually more expensive. However, check this with your insurance provider.
If your collision or comprehensive policy covers rental cars, you will need to file a claim with your insurer after an at-fault accident or another covered incident.
If you had to purchase insurance from the rental car company, for example, your at-fault claim will go through the rental agency's insurance provider.
How Much Does It Cost to Get Rental Car Reimbursement Coverage?
Rental car reimbursement coverage is relatively inexpensive. More often than not, you'll find that the annual fee for this coverage costs less than the daily fee for renting a car.
The exact costs of rental reimbursement coverage vary. Most insurance providers will allow you to select your rental car limits.
Is Rental Car Reimbursement Coverage Worth It?
Whether it is worth adding rental reimbursement coverage to your auto insurance depends on your circumstances.
If you have access to another vehicle, public transportation, or a family member willing to drive you around, it doesn't make sense to add coverage you would never use.
But if you don't have a second car or an alternative way of getting around, rental reimbursement coverage is definitely worth the relatively low cost. It's a great safety net that provides peace of mind for those "we-all-hope-they-never-happen" events.
Find Affordable Car Insurance Quotes through CheapInsurance.com
Are you looking for an auto insurance policy?

Just enter your zip code at the top of this page and fill in the necessary details. In no time at all, you'll be able to access several free quotes—tailor-made for your needs, budget, and the state you live in.
Once you've found a policy that suits you best, you can relax knowing that you'll be put in touch with top-rated insurance providers. Trust our expertise—we've been providing quality insurance quotes at the lowest prices for over 45 years.
Don't waste your time browsing through multiple websites for cheap car insurance. With access to hundreds of trusted providers, we bring you the best car insurance deals.
While choosing your car insurance, you may want to look into additional insurance, such as rental reimbursement coverage. For a low additional fee, you can have your insurance cover a rental car if your vehicle is in a repair shop after an accident.
With CheapInsurance.com, you can find the best solution for your auto insurance needs today.
We've got you covered!