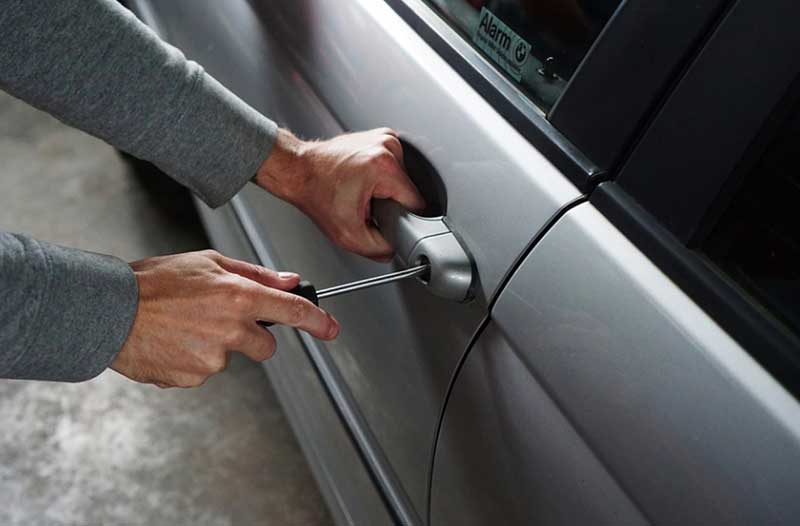 Has Your Car Been Stolen?
You May Be Wondering if Insurance Will Cover It
If your car gets stolen, it can be a very unsettling and stressful experience. In 2021, the nationwide rate of car theft in the U.S. was around 286 reported cases per 100,000 of the population.
In other words, there is always a chance that your car can be stolen. The chance of car theft increases depending on the car you drive and in which areas you live and drive.
Generally, luxury vehicles and sports cars rank among the most stolen cars in the U.S.
While higher-priced cars are primary targets for thieves, the following cars have made the top 20 list of more moderately-priced stolen vehicles:
Dodge Charger SRT Hellcat.
Dodge Charger HEMI.
Infiniti Q50.
Dodge Challenger.
Land Rover Range Rover four-wheel drive.
Land Rover Range Rover Sport 4WD.
Nissan Maxima.
Kia Rio.
Dodge Charger.
Honda Accord.
BMW X7 4WD.
Chrysler 300.
Kia Sportage.
Ram 3500 Crew Cab LWB 4WD.
Ford F-350 SuperCrew 4WD.
Kia Sportage 4WD.
Ford F-250 SuperCrew 4WD.
Honda CR-V.
Dodge Durango 4WD.
Hyundai Accent.
So, the question you may be asking yourself is whether or not your car insurance will reimburse you for the cost of your car if it is stolen.
The short answer is yes—if you have comprehensive car insurance.
In this article, we provide you with all the information you need to know if your car is stolen.
We outline how your car insurance company will cover theft, what you need to do in the case of auto theft, and we discuss other related topics to help you.
What Kind of Insurance Covers a Stolen Vehicle?
A common misconception is that you must carry full coverage car insurance to be insured against the theft of your vehicle.
There is technically no single full coverage insurance product available. Rather, full coverage car insurance involves a few insurance coverage options which tend to include:
Comprehensive coverage.
Collision coverage.
Very often, comprehensive and collision coverage are sold together, although you can choose to buy either of these insurance coverages separately.
In reality, the only insurance product that will cover your car against theft is comprehensive cover.
Comprehensive insurance protects you financially by covering you for theft or damage to your car, provided that the damage is not caused by a collision.
Comprehensive insurance will also cover you if you're faced with any of the following scenarios:
Fire and explosions.
Natural disasters.
Civil disturbances.
Windshield and glass damage.
Falling objects.
Damage caused by rodents.
Car accidents with animals.
Slight negligence.
Let's take a look at two scenarios related to car theft, which both represent cases where your insurance company will cover you:
Scenario 1: Your car has been stolen
If your car has been stolen and it has not been recovered, your insurer will pay the current value or actual cash value of your vehicle.
However, comprehensive claims do have a deductible and this is important to remember.
This deductible is the amount that you will need to pay before your insurance company will pay out the rest of your claim.
If you have an older car, it is a good idea to compare the deductible to the cost of replacing your car, as well as how much you pay for coverage.
If there isn't much of a difference, you may be better off without comprehensive coverage. But if your car is financed or on lease, you will need to have comprehensive coverage in place.
Scenario 2: Your car was damaged due to a break-in
In the case of damage due to a break-in, comprehensive insurance will typically cover repair costs such as:
Broken door locks.
Smashed windows.
Broken ignition system.
Is Personal Property Covered under Your Car Insurance Policy?
You may be wondering whether your laptop, bag, cellphone, and so on would be covered if your car was stolen or broken into.
Unfortunately, comprehensive insurance will not cover your personal property inside the car.
Comprehensive insurance will only cover the features of your car that are permanent, like the original radio, for example.
The good news is that if you have homeowners or renters insurance, these items will very likely be covered.
If your car is stolen or broken into and your personal items are stolen as a result, you will need to file two different claims.
The first of these claims is one for the car itself through your car insurance company, and the other is through the company with which you've insured your home.
What Can You Do If Your Car Gets Stolen?
When your car gets stolen, you will probably feel a little disoriented and shocked. However, it's important to respond as fast as you can to increase the possibility of your car being recovered as quickly as possible.
As soon as you realize that your car has been stolen—contact your local police. Once the police officer has filed a police report for you, you can then begin the insurance claim process.
Here are the steps you will need to take:
File a police report
It is best to file a police report within 24 hours after the car has been stolen. The faster that the police can begin looking for your stolen car, the better the chances of them finding it.
This also means that you will be able to start the insurance claim process quickly. The police will ask you for the following information to help them find the vehicle:
The vehicle identification number (VIN) and the license plate number. This information can easilybe found on your insurance card or other insurance documentation.
The year, make, and model of the car.
The place and estimated time of the theft.
A list of any personal items that you had in the car.
Identifying marks on the car, such as dents, scratches, and stickers.
Whether your car has a tracking device.
Once you have filed the police report, immediately notify your insurance company so that they can start the claims process.
File an insurance claim
Your insurance company will need as much information as possible to check your claim and decide on the payout they'd offer to you.
Generally, your insurer will need the following information from you:
The car title.
The location of all keys to the car before and after the car was stolen.
Names and contact numbers of all the people who've had access to the car.
A description of your car, including the mileage, service records, and any upgrades.
Contact information for your car lender.
Your policy account number.
Your auto insurance provider may also run a credit check to see whether you are in good financial standing.
If you have a large amount of debt, this may raise questions as to the car theft claim and could increase the likelihood of your claim being denied.
This is because insurers may think that you are trying to get extra money to pay off debt.
Finally, you will need to notify your car lender as soon as possible after the above two steps have been completed.
How Much Will Your Stolen Vehicle Payout Be?
Comprehensive coverage will pay you out to the actual cash value of your car, minus your deductible. This is the maximum amount that you will be compensated for.
If the car is recovered and the repair cost is less than this amount, then you will receive enough money to pay for the repairs to your car.
What is an actual cash value?
ACV, which is the acronym for actual cash value, does not include any insurance deductible that will be subtracted from your payout amount.
To decide on a valuation, your insurer will consider the following:
Car make.
Model.
Age.
Accident history.
Kelley Blue Book value.
Wholesale price of your car.
Key Point: What Is the Kelley Blue Book?
The Kelley Blue Book Price Advisor has been created to help you understand what you should be paying for a new or used car based on what others have paid in your area.
To be sure that you are getting a good deal, check the Kelley Blue Book Fair Purchase Price and Fair Market Range to determine your target price.
Only the original features of your car will be considered in the evaluation. In other words, if you've done window tinting, upgraded your cloth seat covers to leather, got a new spray job, and so forth, your insurer won't cover this.
It's the insurance adjuster's job to ensure a fair but low valuation of your car.
It's also a good idea to do your own research regarding the value of your car so that you can make sure you are getting the correct payout.
What Happens If Your Car Is Recovered?
In the U.S., roughly 46% of stolen cars are recovered. Even if your car is found, you may find that the car has missing or damaged parts.
In this case, your insurer will, under comprehensive coverage, pay you for any repairs to the car—unless the repair costs are higher than the value of the car itself.
If your insurance company decides that the car is not worth repairing, they will pay out the actual cash value of the car, less your deductible.
Assuming your vehicle is recovered after your insurer has paid out your claim, they will then likely take ownership.
Should you have not bought a replacement vehicle yet, then you may need to pay back the claim amount.
How Can You Prevent Car Theft?
The most important step that you can take is to ensure that you have an anti-theft device installed such as a:
Steering wheel lock.
Immobilizer.
Kill switches.
Car alarm.
These anti-theft systems will deter thieves from stealing your car and could qualify you for a discount on your car insurance premium.
However, you don't always need fancy equipment to protect your car. Here are some other ways to prevent your car from being stolen:
Always turn off your vehicle if you are not in it and take the keys with you.
Lock all the doors, close the windows, and lock the trunk.
Choose parking spaces that are off the street and well-lit.
Never write your name and address on the keychain.
Park your vehicle with the front end of the car facing an obstacle.
When you have to park on the street, turn your wheels to face the curb and engage your steering lock.
Have your VIN number etched on your windshield by a car dealership or your local police department.
Get Cheap Comprehensive Car Insurance Today with CheapInsurance.com
Comprehensive coverage is typically not very expensive and will be well worth your money if you are afraid of your car being stolen.
But it is essential that you shop around for cheap comprehensive cover quotes to make sure that you are getting the best rate possible.
Finding a good insurer can be a time-consuming process. Fortunately, we are here to help you find the insurance coverage that you need—at the best price.
All you need to do is head to the top of this page and enter your zip code. You will find a wide selection of insurance quotes to choose from.
Once you have an idea of the auto insurance premiums that you could be paying, it will be time for you to contact the insurers that are offering you the cheapest rates to get a formal quote.
Getting car insurance should be quick, simple, and stress-free, and you deserve to get the best insurance rates possible.
At CheapInsurance.com, we've got you covered!