Get a Quote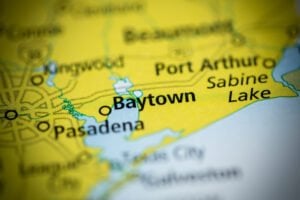 Baytown, Texas has a 2015 estimated population of 76,335 residents, and is part of the greater Houston metropolitan area. Baytown is home to The Cedar Crossing Industrial Park. With a total expanse of 15,000 acres, Cedar Crossing Industrial Park is considered the world's fifth largest industrial park and the largest on the Gulf Coast. Cedar Crossing has attracted many top-tier companies making it a very busy place with a lot of traffic congestion. Taking a few minutes to compare the growing number of choices for cheap car insurance Baytown offers can help you rest easy, knowing you are paying the lowest available rate.
Cheap Car Insurance Baytown Requirements
It's important to have the right car insurance in Baytown to protect not only yourself, but your vehicle too. Remember that carrying the minimum coverage required by law may not be enough to cover you personally. Make sure your policy will cover all of your assets, even if you are in an accident with an uninsured driver.
Bodily Injury coverage requirements are a minimum of $30,000 per person and $60,000 per accident.
Property damage liability minimum requirements are $25,000.
Uninsured Motorist coverage is not required, but insurance company's are required to offer it, and explain the coverage to consumers. According to Texas' DMV, an estimated 20% of drivers in the state are uninsured, resulting in costs of up to $900 million for consumers.
The law in Texas requires drivers to pay for accidents that they cause. Fault is ultimately determined by the state, using evidence and testimony gathered at the scene of the accident. The at-fault party is then required to pay all damages resulting from the accident.
Public Transportation In Baytown
Harris County Transit runs bus lines in the city, as well as a park and ride. Carpooling or taking public transportation can help lower your auto insurance rates because you will be putting less miles on your car each year.
Greyhound Bus Lines operates the Baytown Station at Baytown Travel Express.