Insure yourself in Missouri
Missouri is ranked 18th in the nation in population, but 21st for total land area. The state counts the Mississippi River as its eastern border.
Its low population density helps to maintain the cheap insurance Missouri is known for.
Average monthly car insurance premiums are just a tad over $100. That's only half of what people pay in some of the eastern states!
Every state has its own quirks and facts. Did you know the first parachute jump took place in Missouri? Being the birthplace of Mark Twain might help explain the great sense of humor of Missouri residents. There is a great deal of pride to be found among Missourians. And no wonder, considering all the great barbecue and beer that helped make the state famous!
If you're considering a visit, or just a weekend road trip, make sure you're up-to-date on the local laws and regulations. From the Ozarks to wine country, river tours to spelunking, Missouri has a ton to offer.
Missouri Facts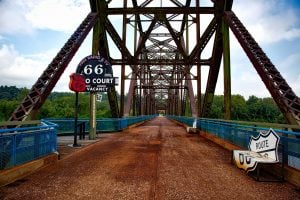 There are around 2.3 million cars registered in Missouri.
The average car insurance premium is $1,200/year. This comes out to a little over a hundred bucks per month.
Uninsured drivers cost law-abiding residents almost $90 million per year.
Getting into an accident without insurance in Missouri means you forfeit any claims to damage to your own property. You will also face higher insurance rates, license suspension, or even jail time!
Kansas City has more boulevard miles than Paris, and more fountains than any city except Rome!
Cost of living is around 9% cheaper than the national average, giving Missouri residents a lot of extra cash!
Car Insurance
There are plenty of tips for finding car insurance in every state. The first and best tip is to contact a good insurance broker. They usually have access to multiple products and companies. Most will take your basic info first, then narrow down any possible discounts. This info includes your driving habits and "points" on your record (accidents or traffic violations). Every fact about you can effect your monthly rates, including:
Your age. The older you are the cheaper your insurance rates usually get. This is because companies take your driving experience into consideration. Younger drivers just don't have as much experience. Remember when you were 16?
Years of coverage. If you've had continuous coverage for years, insurance companies will sometimes lower your rates. Especially if you haven't filed any claims. They will consider you a "good risk."
Your car. Sports cars and some SUVs can cost more to insure. Luxury cars are also more expensive. This is usually because it costs the insurance company more to replace if it's a total loss.
Commute miles. Drivers with longer commutes usually pay more. That's more time on the road and an increased accident risk.
Zip code. Dense urban areas are a higher risk for insurers. Just because there are more cars on the road.
Missouri Car Insurance Requirements
Bodily Injury (BI) Liability coverage of $25,000 per person, per accident.
Minimum BI coverage limit of $50,000 per accident. This can cover multiple people.
Property damage liability of $10,000 per accident. Covers damage to someone else's vehicle or property.
Recommended Coverage
While "full coverage" isn't required in Missouri, it helps to know what it is. The mandatory requirements only cover damage you cause. This means anything of yours that is damaged isn't automatically covered. "Full coverage" isn't an official insurance term, but it generally means you are paying to protect your property as well.
Here are some added coverages that can help protect you and your car:
Comprehensive coverage will protect your car for any non-collision damage. For example, if your neighborhood floods or a tree falls on your car.
Collision coverage provides insurance for damage to your car if the accident is your fault. This usually comes with a deductible, but extends to full replacement if your car is "totalled."
Rental car coverage reimburses you if you have to rent a car while yours is in the shop. Or while you are shopping for a new car after a total loss.
Towing or roadside assistance ranges in coverage, depending on your insurance company. Sometimes it's a reimbursement package, meaning you get paid back by your insurance company. Other times the tow truck or assistance company will bill your insurance company directly.
Uninsured Motorist coverage protects you if you are hit by a driver without their own coverage.
Some insurance providers will offer windshield repair or replacement at no added cost!
Get the cheap car insurance Missouri residents are already enjoying!
Thousands of people have spent just a few minutes comparing rates and policies. It only takes a few minutes to lower your monthly payments!
Motorcycle Insurance
Like some other states, Missouri requires you to carry the insurance liability as you do on your car. This goes for recreational riders, as well as commuters. The good news is that motorcycle insurance can be much cheaper than car insurance. Of course, this depends on the type of bike you have, as well as how you use it. It pays to search all the cheap motorcycle insurance Missouri has to offer. There are a tone of coverage options, insurance companies, and discounts.
Minimum Motorcycle Insurance in Missouri
The same requirements apply to both auto coverage and motorcycle insurance. The basic minimum coverage is:
$25,000 of coverage for bodily injury liability per person.
$50,000 of BI liability per accident.
$10,000 of property damage coverage per accident.
Tips to help you find motorcycle insurance discounts
Attending a safety class can add a record to your license. This shows insurance companies that you know how to ride. Proper training means lower risk, and lower rates!
Some companies will give you discounts for additional safety gear.
Combining multiple motorcycles on the same policy will give you a multi-vehicle discount. Insurance companies know you can't ride more than one bike at a time, so they discount the second.
More years of riding experience means lower rates, just like your auto policy.
Joining a local motorcycle club or national organization can give you a membership discount.
If you're curious what rates look like in your area, take a few minutes to explore your options. Insurance companies will bid on you. More competition means lower prices!
Homeowners Insurance
There are a lot of options to help you find the cheap homeowners insurance Missouri residents are already enjoying. Whether you are still making mortgage payments, or completely own your home, you need to protect your most valuable asset. If you neglect to shop around, you could be paying far more than you need to. In some cases, lenders will automatically enroll you in a company of their choosing. But that means you are letting someone else decide what rates you pay.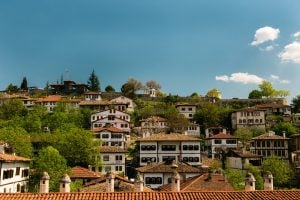 Whether it's your starter house, or your retirement mansion, you're talking about your home. Missouri homeowners insurance rates sit right at the national average of $100 per month. This price varies by location and the size and value of your house.
Typical homeowners insurance coverage
Physical damage coverage. This provides coverage in the event of a fire or any number of catastrophes. It accounts for the majority of your premium, but covers your home up to full replacement.

Check your policy for any excluded damage types.
Will usually cover permitted structures like sheds and garages.

Personal property coverage will provide a fixed amount of replacement coverage for all of your personal belongings, including furniture, jewelry and electronics.

Taking an annual inventory of your personal property is advised. This helps ensure you are setting your coverage level appropriately.

Liability protects you against lawsuit related to an incident or accident on your property. It is similar to the liability coverage on your automobile insurance
Loss of Use coverage pays for any rental property or hotel stay while repairs are being done on your home related to a covered incident.
There are multiple available discounts, so it pays to shop around.  These discounts can help you get higher coverage, while still getting keeping your rates low.
Homeowners insurance policy discounts
There are a lot of ways to lower your homeowners rates, including:
Alarm systems. Most companies give you a significant discount for installing one, which can help defray the cost of the security system.
Sprinkler systems are often included in new homes, and can lower your annual rates.
Policy bundling gives you a discount, so it pays to have all your coverage with the same company.
The closer you are to a fire and police station, the lower your rates can be.
Every insurance company offers different packages and discounts, so it's always good to shop around.
Life Insurance
Almost half of Americans don't carry life insurance. Some think it's too expensive. Others don't think they need to worry about it. But this overlooked insurance can mean the difference between your family's financial security and financial disaster. Not carrying life insurance put your family and their future at risk. It helps to think about it as added security. Then it becomes an investment in the future of your family, rather than a burden.
Some facts about life insurance
It is the most cost-efficient way of planning for any eventuality.
Life insurance can cover medical bills, funeral costs, mortgage payments, or other living expenses.
It can replace your income and even provide for your children's college tuition.
Some policies allow you to withdraw funds, and are sometimes used as an emergency savings.
There are over 800 life insurance companies in the US alone.
Life insurance is a contract between you and the insurer. The Insurance company takes your monthly payment and uses it to pay out a "death benefit" when you pass. The difference between the premium they collected and the "death benefit" amount is considered their profit.
There are a few basic types of life insurance:
Term life and whole life are two different insurance policies with different requirements and coverage. Some individuals choose term life because it is a fixed cost each month for a set policy period. For instance, you may pay $30 a month for a $130,000 policy over a twenty year period. But at the end of that 20 years, you have to purchase a different policy, usually at a higher rate .
Permanent life insurance can provide coverage for your entire life span. Depending on the type of product, it can cover you until you are up to 100 years old. Some have no age limit! These policies usually cost more, but provide benefits no matter when it comes into effect.
Don't be one of the 40% of Americans who think life insurance is too expensive or burdensome. A few minutes can get you quotes for any of the many types of cheap life insurance Missouri residents like you are already finding.
Health Insurance
There's a ton of talk about health insurance these days. Whether it's on the nightly news or conversations in your local coffee shop. Not only is it one of the biggest industries in America, health insurance is something everyone needs. For average health insurance coverage in Missouri, a healthy twenty-one year old can expect to pay around $250 per month. Even if you're lucky enough to have coverage through your employer, it still pays to compare all the options and plans available. Whether it's just catastrophic coverage, or low-deductible premium insurance it's worth comparing all the options for cheap health insurance Missouri plans can offer.
What types of health insurance are available?
There are too many insurance options to show a comprehensive list. Missouri has six million residents, and each of them have different health care options. Some people have a plan through their employer, and only pay a portion of their monthly premium. Others have to purchase a plan through a government exchange or on the open market. Still, there is some basic information you should know before you start looking.
The two main types of health insurance are:
HMO (Health Maintenance Organization) policies are typically cheaper, but require you to visit specific care providers within an HMO "network." Some people feel this limits your options, but it has the benefit of being cheaper. With lower deductibles and out of pocket costs due to set rates for certain types of care.
PPO policies, or Preferred Provider Organizations,  give you more flexibility when choosing a hospital or doctor. But this flexibility can be more expensive, with higher annual or monthly health insurance premiums.
If you're shopping for health insurance in Missouri, your first step is to fill out an online form. You'll provide your basic info, like your age and medical information. Then you'll have a number of companies sending you offers. The more information you provide, the more accurate your quotes will be. After that, a licensed insurance professional can help find you even more discounts.
Renters Insurance
While one of the more overlooked types of insurance, renters insurance is actually one of the cheapest types. Some companeis offer up to $50,000 of personal property coverage for as little as $20 per month! Maybe you think you don't need it because you don't own your home, but in reality the only way to cover your belongings is to purchase renters insurance. Your landlord or property manager won't cover you for loss in the event of a fire, flood, or other natural disaster. And if your home or apartment is robbed, you'll need the coverage to replace anything stolen.
The good news is that it's easy to find the same cheap renters insuranace Missouri customers already have. The rates don't cange frequently, so even if you've been waiting, the rates are probably still cheap!
Did you know that holding a renters insurance policy can also lower your car or motorcycle insurance rates?
Take a couple minutes to shop around. More and more insurance companies are putting together plans, and the discount you receive on your car insurance policy will even cover the added expense!
We Have Your Town Covered!