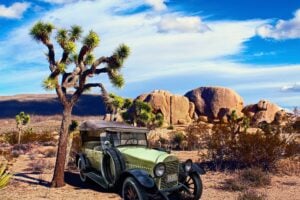 Premier Victor Valley Town
Victorville, California sits at the edge of the Mojave Desert in Southwestern San Bernardino County. Like many cities in this stretch of desert, it got its start as one of the stops along historic Route 66. Before that it was little more than a crossing point on the Mojave River. In 1860 there were only ten residents! Now the city boasts over 100,000. Retail, warehousing and transportation, public administration, and the healthcare industry are the city's largest employers.
Part of Victorville's growth came during World War 2. The army built an airfield that later changed to George Air Force Base. During this period of time many of Victorville's population was made up of military families. When the base finally closed in 1992, part of the land was repurposed into a commercial airport and an army training facility. A lot of the structures were left standing. This formed a ghost town that is now used for urban infantry training for Fort Irwin's reserve soldiers.
More About Victorville
While Victorville doesn't see a lot of tourist traffic throughout the year, there are interesting attractions that are overlooked. These include the Victorville film archive and the Spring Valley Lake with its waterfront homes. Many historic buildings, and even prehistoric rock carvings known as the "Rock Faces" are also points of interest.  Like much of the nation, the city experienced a downturn during the housing crisis. Crime rates and homelessness rose. Victorville was listed as one of the most dangerous California cities until 2016.
Since then, Victorville has made a lot of efforts to revitalize the city, its historic "Old Town," and address the remaining urban issues. Investment in local law enforcement has helped, along with new education programs. For example, Victor Valley Community College has become known for its public safety and disaster preparedness education programs.
Apple Valley
As for other tourist and recreation spots, there's Apple Valley (a popular apple-picking spot in the Fall), the Historic Route 66 Museum, and Bottle Tree Ranch. The Mall of Victor Valley is a popular retail destination. Jess Ranch Lake and the Mojave Narrows Regional Park offer camping spots and horseback riding. There are three great golf courses if you want to hit the links, including the Hesperia Golf and Country Club. When you're done you can grab a snack at the local farmer's market! Annual food festivals, craft beer and wine festivals, and even a coffee and donut festival, are helping to attract a more diverse population.
When you are looking for a home, car or protection in Victorville, you will want great insurance. Settling down in this town may seem easy, but you won't truly feel settled until you get the insurance you want at the price you deserve. Make sure you have the cheap insurance Victorville residents want today.
Insurance Requirements In Victorville
Car Insurance
If you are looking to purchase a new car or an old junker, you will need car insurance in California. Depending on whether you have a loan out for your vehicle will determine how much insurance you need. There are many factors that an insurance company considers when deciding how much you will pay for coverage. Where you live and how safe of a driver you are count. Make sure you keep a clean driving record for the lowest possible rates. Getting cheap car insurance in Victorville means looking for discounts. Most of the time you can find at least one way to save. Ask a broker how you could cut your car insurance costs by calling Cheap Insurance now.
The minimum amount of insurance that you must have in California:
Bodily Injury Liability Limits: $30,000 per occurrence/ $15,000 per person
Property Damage Liability Limits: $5,000 per occurrence
Extra Coverage You Might Want
Medical coverage for you and your passengers- Medical coverage can make a huge difference for your security and safety.
Towing and roadside assistance- You may not only need this for a crash, but if you break down. Roadside assistance can save you time and money.
Rental reimbursement- You could be covered or reimbursed for a rental car when you are involved in a crash.
Uninsured Motorist coverage- this will make sure that you are still covered even if someone without insurance hits you.
Full glass coverage- this is additional coverage for your car to cover glass windows and doors.
Loan/lease coverage- when you have a loan or a lease out on a vehicle, your coverage needs to be different. Most of the time a full policy is required.
Homeowners Insurance
Buying a home is a large investment. In fact it might be the largest investment you ever make. Maybe you and your family have moved to Victorville to find your first home and settle down. Perhaps you have a slow of rentals in the area. No matter what your situation, if you have a loan out on a house, the banks will make you carry homeowners insurance. This policy ranges in price so talk to a professional about what you will need. From liability to theft and structural damage, you can never over insure a house. There are things that go wrong and you will want to be prepared. Get the best cheap insurance quotes in Victorville and feel safe in the dwelling you call home.
Here is what could be covered in your policy:
Damage to your home, including permanent structures on your property—unless your policy specifically excludes the cause of the damage
Damage to personal property, meaning the items in your home that are not attached to the dwelling, due to causes outlined in your policy
Liability coverage for legal matters or accidents that occur on your property
Loss of use, which allows you to maintain your lifestyle at another residence while your home is being repaired without incurring additional costs
Limited coverage for items such as stolen jewelry—the amount of coverage varies depending upon state of residence, and you always have the option to increase this coverage.
Additional coverage available for more valuable items (jewelry, fur, silverware, etc.). If coverage above the limited coverage amount is required, a "rider" should be purchased. This coverage offers a broader range of perils.
Make sure you bundle your multiple insurance policies with one company. This will save you money as well as time. Ask a broker how to bundle.
Renters Insurance
Whether you are in an apartment or a house, renting can be a strategic move for you. Save up to purchase a house by renting within your means. It doesn't matter if you are just starting out or have been working for years, purchasing a home in California can be expensive. This is why so many people choose to rent. Renters insurance is one of the cheapest insurance policies you can have. For as little as $20 a month you could have a great policy which covers theft and liability. Your family and the ones who reside in your rental will thank you. Make sure you attain the cheap insurance in Victorville and live life more fully knowing your home is protected.
Why You Need Renters Insurance
More break-ins happen in apartment buildings or condos than other types of homes. The National Crime Prevention Council has found that apartments are 85% more likely to be robbed than other homes. Home Insurance is required by law, but most renter's in California don't carry adequate insurance to protect themselves for this type of loss. Fires can happen, especially in an apartment building.  Are your belongings covered for fire damage that can arise from a neighbor's negligence?
The weather in California can be just as unpredictable, and just as damaging, as the weather in other states. Are you covered for water damage? Wind damage? Your belongings can be damaged by water leaking from a roof or debris coming through a broken window. If somebody falls in your yard, or in your apartment, you could potentially be found at fault. Lawsuits are more and more common in today's society.  Many people don't know that a renter's policy can  offer liability protection in the event that you are sued.
Motorcycle Insurance
The desert of the San Bernardino County limits is great for riding. Getting out on those long stretches of road with just your motorcycle is a great feeling. Some people who live in Victorville choose a motorcycle over a car for their daily commute. It can not only save you on gas but time on the road. Parking is less of a hassle with a smaller vehicle such as a bike. The motorcycle culture on Southern California is large and only growing. If you are looking into purchasing a motorcycle either for recreation or practical uses, you need insurance.
Most riders choose to carry full coverage on their bikes even if they are paid in full. Having roadside assistance and towing can be very helpful. Did you know you could even have your gear and helmet covered with your insurance policy. Call today and find out how. The best motorcycle insurance around comes from Cheap Insurance.
More About Motorcycle Insurance
Motorcycle liability insurance is required -each state has different requirements
In many states the required liability limits for Motorcycle Insurance match the requirements for Auto Insurance: $15,000 per person / $30,000 per occurrence for Bodily Injury liability and $5000 for Property Damage Liability
Basic liability for Motorcycles provides no coverage for your motorcycle or vehicle
Because of the higher risk of a total loss, it is recommended you purchase physical damage coverage with your Motorcycle Insurance policy (Comprehensive and Collision coverage)
If you are financing your motorcycle most banks will require physical damage coverage with up to a $1000 deductible
You can purchase policies with specific coverage for your accessories (helmets, jackets, boots, etc.)
SR22 Insurance
You might be in a bind if you are looking fro SR22 insurance. Get out of trouble now and call an insurance broker who can help you. There are many reasons for needing SR22 insurance. From a DUI to unpaid parking tickets, SR22 insurance can help. But in every instance, you will need to obtain this insurance for a minimum of three years. Keep you current car insurance as well. You may have fallen on hard times, but let an insurance agent make your life easier by dealign with the DMV and paperwork. SR22 is not expensive but you will never want to lapse on payment. If you want to get back on your feet sooner rather than later, take this step in the right direction now. SR22 insurance is the way California helps you to get back in the drivers seat.
What To Do Next
The first thing you need to do is contact your car insurance company. In most states there is a $15 to $25 fee to file the SR22. To obtain an SR22 filing, you must purchase minimum liability coverage on all vehicles registered to you, whether they are operational or non-operational. For those who do not own a vehicle, "non-owners" liability coverage is required. The minimum period for SR22 filing is three years, though it may be longer, based on the severity of the violation(s), and whether or not your liability policy stays active.
When you get your drivers license suspended or revoked, this is a"red flag" according to the Department of Motor Vehicles. Anytime you need to have SR22 insurance, you are considered a "high-risk" driver. Because of this your insurance policy may be more expensive. You fall short of any "good-driver" discounts. You may have to pay more for your insurance for the next few years. However, there is a light at the end of the tunnel.
Health Insurance
The best thing about health care coverage is that you will always need it. It doesn't matter how old you are or what stage of life you are in. Medical coverage is a huge deal. You could get into an accident and need an emergency room. Maybe you are getting ready to have a child and need a great pediatrician. You could also have an illness that needs on going care. Health insurance is mandatory in the state of California and for good reason. You need it! Health costs are based on your average annual income in most cases. If you and your family need health coverage, click on the link button below for a free and instant quote.
What is health insurance?
Health insurance is an insurance that pays for all or some of a persons healthcare bills. These plans range from group health plans, individual health plans, worker's compensation, and government health plans. Healthcare costs include: doctors visits, hospital stays, surgery, procedures, home care and other treatments. To qualify for government healthcare, one must meet a financial criteria.
Life Insurance
Life insurance is often overlooked. This kind of policy can be very useful for helping the ones you depend on you the most. When you are at the end of your life, you will want to know your family is financially covered. A life insurance policy can be used to help pay for funeral expenses, college tuition for a child or grandchild and much more. Don't leave debts behind. Make sure your life insurance policy will cover all the needs your family will have. You will want to take a deeper look at which type of policy works best for you. Do this by calling a Cheap Insurance agent and getting the best advice possible.