Start My Quote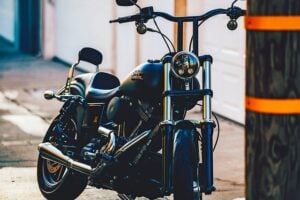 In Los Angeles, the motorcycle culture fits like a glove. There's no better way to experience the infinite variety of city roads than on the back of a motorcycle. But every Los Angeles rider knows that riding a motorcycle in the city is a bit like having a target on your back. You won't get any slack from other drivers, and the surface of a city street is pretty unforgiving. That's why good insurance coverage is a must. Thankfully, if you're looking for cheap motorcycle insurance Los Angeles has a ton of options.
Cheap Motorcycle Insurance Requirements Los Angeles
In California, motorcyclists are required to carry the same amount of liability coverage as car drivers:
Bodily Injury Liability Limits:

$15,000 per person
$30,000 per occurrence

Property Damage Liability Limit:
As a motorcycle rider, though, you know that basic liability coverage is often not enough. Especially when you've invested as much time and money into your motorcycle as most riders do. Basic liability only pays out to the other party, and doesn't cover your own motorcycle. For that you need Comprehensive and Collision coverage. Basic liability also does not cover the cost of medical expenses if you're involved in a serious accident. Here are some other options for cheap motorcycle insurance in Los Angeles that you might want to consider:
Collision Coverage (covers your motorcycle for accident damage)
Comprehensive Coverage (covers your motorcycle for theft or other damage)
Towing (covers or reimburses you for the cost of a tow)
Also, if you have valuable safety apparel or custom parts, you can add additional coverage for that. Motorcycle insurance doesn't have to cost a fortune, and in many cases will be cheaper than auto insurance. Just like with an auto policy, you can get discounts for things like safety certifications, having a good driving record, or insuring multiple motorcycles on the same policy. Los Angeles is one of the best places to ride a motorcycle. For additional state guidelines, check out the
DMV Guide
.
Types of Los Angeles Motorcycles
Cruisers (like Harley Davidson)
Scooters (like Vespa)
Street Bikes (like Yamaha, Ducati, etc.)
Street-legal dirt bikes
Trikes
Custom motorcycles and choppers
Kit bikes
Any factory-built two or three-wheeled vehicle