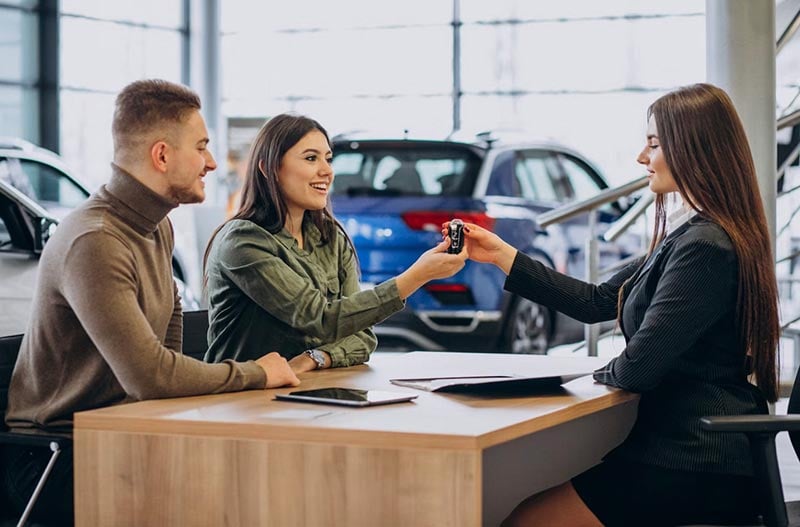 The automobile industry is still recovering from the COVID-19 pandemic, which impacted vehicle production worldwide.
The industry faced widespread factory closures, labor concerns, and a shortage of semiconductor chips—which are necessary for the manufacture of modern vehicles.
The result has been a steep hike in car prices, which means that if you are looking to buy a new or used car, you will need to zero in on a time when you can get the best deal possible.
Fortunately, there are several times a year when you can get great deals from car dealerships when buying a new or used car.
In this article, we will take a look at some of those times to help you pinpoint the best opportunity to go car shopping.
When Should You Go Car Shopping for a New Vehicle?
If your car is on its last legs and giving you trouble, and you know you are in need of a new ride, it is a good idea to start planning your car shopping as soon as possible.
This is because a last-minute purchase will almost certainly end up costing you more than you should actually spend on a new car.
Good preparation is key when shopping for a new car as it gives you enough time to consider your budget, as well as decide how you will finance the new car.
If you have a deadline for buying a new car, you may not have the time you need to shop around and take advantage of the best deals.
If you're planning on trading in your car, remember that the better its condition, the more money you will be able to get for it. For this reason, it is better to trade in your old car while it is still in good condition, instead of waiting too long.
Here are our five top tips for buying a new car. You can use these tips to help you plan ahead when it comes to this large purchase:
1.Find out the cost of insurance
Your car insurance rates will change when you buy a new car, even if it is secondhand. In other words, you may end up either paying more, or less, for your car insurance than you are paying now—depending on the model that you buy.
The cheapest vehicle is not always the least expensive to insure, nor are older cars necessarily cheaper to insure. Generally, the more expensive the car is to repair, the higher your car insurance costs are going to be.
Here are some considerations you can take into account when thinking about the insurance cost for your new ride:
The year, make, and model of your car.
The color of your new vehicle.
The type of insurance coverage you need.
2.Look for safety technology
If you are in a position to buy a brand-new car, you will be able to enjoy the many safety features that come with new models. These features help you drive more efficiently, and protect you and your passengers while you're driving.
It's important to know that insurers will offer you a better insurance rate if you are driving a car with good safety features. This is because you are less likely to have an accident due to these features.
Some of the best features to look for, include:
Adaptive cruise control: This feature detects vehicles ahead and automatically adjusts your car's speed to maintain a safe following distance.
Adaptive headlights: As you navigate turns on the road, these lights are able to adjust accordingly to better illuminate the road ahead of you.
Automatic parking: Using sensors, the vehicle is able to detect obstacles and adjust your steering to park the car safely.
Backup cameras: These allow you to see behind the car so that you can avoid collisions.
Forward collision detection: Sensors will detect when a crash is about to take place, and in some cars, the brakes may even be applied automatically to prevent a collision.
3.Consider vehicle design and size
It's helpful to make a list of the features that you want your new car to have. Should the car have enough space for your whole family and the pets? Are you looking for something fuel efficient? These are all questions that need to be considered.
4.Get pre-approved for a car loan
It is a good idea to get pre-approved for a car loan before you start shopping. This will not only give you a better sense of how much you can spend on a car, but will also allow you to negotiate a better deal on a new car.
Check with a variety of lenders to get the best interest rate and financing deals. Once you have your approvals in place, you'll know how much you can safely spend. To get a car loan, you will need to provide:
Documents that verify your income.
A list of debts that you have to cover.
Your car insurance information.
5.Negotiate a good deal
After you have your car loan approval in place, as well as a solid idea of the make, model, color, and year of the car you need, you can begin shopping around for a new vehicle.
By first reviewing the car you are interested in buying online, you can get a better idea of how much you can expect to pay for your new ride.
By having addressed tips one to four above, you will be in a solid position to negotiate the best deal for your new car.
In addition to negotiating a good deal, it is helpful to know when it's a good time to get cheaper prices on cars.
When Are the Best Times to Negotiate Deals on a New Car?
There are specific times when car shoppers can benefit from cheaper prices on cars.
It's also helpful to know when car dealerships tend to drop their prices, so that you can find the best price possible for your new vehicle.
The end of the month
Whether they're selling appliances, furniture, clothing, or cars, salespeople have monthly targets that they need to achieve.
When the end of the month is approaching and a car salesperson or dealership hasn't reached its sales goal for the month, there is a good chance that they will offer you a good deal in order to make a sale.
With car dealerships, the competition is very high. For this reason, sales staff are financially incentivized with higher commissions. In addition to this, they may also be allotted more vehicles or additional popular models to sell.
This means that you could probably negotiate a really good deal at month's end when sales staff are working hard to hit their targets.
Mondays
Weekends are typically busy on the showroom floor, whereas early weekdays are quieter, so there are a few benefits to buying a new car on a Monday.
Not only will you receive closer attention from the salesperson—who will be free to answer all your questions and accompany you on a test drive—but you will also have more time to negotiate the sale.
If you haven't yet finalized a car loan to finance your vehicle, the bank or credit union is usually only open between Monday and Friday.
Because you will be able to negotiate with the bank or credit union during the week, this makes a weekday purchase a better, more efficient option when buying a new car.
Three-day weekends
Although it is a good idea to purchase a car on a Monday, rather than on the weekend, there is one exception to that rule.
Dealers often have some of their very best deals available for car buyers on a holiday weekend.
Here are some of the key holidays when you should shop around for great deals on new cars:
Presidents' Day: The first few months of the year are often slow when it comes to sales, but some car dealerships will push to generate sales over Presidents' Day weekend.
Memorial Day: Summer is usually the most expensive time of the year to buy a car, but dealers tend to cut prices around Memorial Day.
July Fourth: Many dealers will work hard to encourage new car sales around the celebration of America's independence.
Labor Day: The end of the summer is known to be one of the busiest times for buying new cars. There are always fantastic deals on new cars available on Labor Day.
Black Friday: Car dealerships often join the Black Friday sales craze. In addition to manufacturer-offered incentives, you may be able to get better deals from a salesperson on Black Friday.
New Year's Eve: This is often one of the very best days of the year to shop for a car. Salespeople could be facing annual, quarterly, or monthly sales targets on New Year's Eve and if they achieve their targets, they may receive a hefty bonus. For this reason, they may be more willing to offer you a great deal—just to secure the sale.
Specific months of the year
In addition to certain days of the week and holidays, there are specific times of the year when you will be more likely to get a great deal on a new car purchase. In general, May, October, November, and December are the best months to visit your local car dealership.
May: The major auto show season spans late fall to early spring. Many new vehicles introduced by car manufacturers start to appear in the last months of spring. If there are any remaining vehicles from the previous year on the lot, you will likely find good deals on those.
October: In the auto industry, the year typically heats up in October, with many new and redesigned vehicles arriving in dealer showrooms. This means that they will want to get outgoing models off their lots. These changeovers lead to more discounts than you will find in other months.
November: In addition to selling off last year's stock, November also includes Black Friday. Dealers tend to offer great financing incentives and generous cash-back car deals throughout November.
December: Dealerships are racing toward the finish line of their monthly, quarterly, and year-end sales targets, so you will often find a good deal on a new car in December. Companies are also looking for year-end tax write-offs. Manufacturers know this and will often offer attractive car leasing deals that you may be able to benefit from, too.
When there are incentives, rebates, or financing deals
Not every car that is produced is as popular as the manufacturer hoped it might be. For this reason, to move new model-year vehicles that have not sold as well as they should have, dealerships will offer incentives such as cash back, lease offers, or financing deals.
This means that you could end up with a nicer car than you have planned on, or you could save thousands of dollars on something that will work for you and your budget.
End of the model year
Although a new car can arrive at any time in the model year, fall is still traditionally the season when new vehicles appear in dealer showrooms.
Before this happens, outgoing models tend to be discounted. In general, cars that are carried over to the new model year with minor changes will see the smallest discounts.
If a vehicle has loads of new features and an updated look, the price break will typically be greater.
When a vehicle gets a complete redesign, discounts given on the old model will probably be substantial.
When a car has been discontinued
When it comes to design, a car's life cycle tends to be around five years. If you really want to save a lot of money, a great time to buy a new car is at the end of its design cycle.
To know when this will be, you will need to be up-to-date with the latest news from the car manufacturer about the anticipated vehicle model and the release date of its new design.
Although you can save a large amount of money by buying a discontinued car model, it is important to remember that discontinued models tend to depreciate faster than newer ones. However, this does not matter if you intend to drive the car for a long time.
You may also want to keep in mind that when you buy a discontinued model, you will be missing out on all the new features that the latest model offers.
If you are okay with this, then you will definitely save a lot of money on buying a new car.
When Is the Best Time to Buy a Used Car?
Most of the same rules that apply to buying a new car, apply to buying a used car as well.
It is important to know that during new car sales drives, sales staff will be very busy with customers interested in buying new models. They may not have much time available to assist used car buyers.
When shoppers buy new cars, they often trade in their old ones. These cars take a few days to test and clean so that they are ready for resale.
This is why it is a good idea to wait a few days after major sales days to buy a used car. You will then be met with a salesperson who has both the time and the available stock to help you.
When Is It a Bad Time to Buy a Car?
Just as there are great times to buy a car, there are times when you should rather wait.
New cars
When a car is brand new or the best selling in its class, you should wait until prices stabilize when sales conditions are more likely to favor you.
The same principle applies when there are supply disruptions or vehicle shortages. There are many buyers out there who are willing to shell out the extra dollars for the latest model.
By waiting patiently for when the demand is lower, you can save thousands of dollars when buying a new car.
Used cars
Never buy a used car shortly after a major flood or other disaster, as this is when vehicle owners will be very active in trying to sell their damaged vehicles.
When buying a used car, always get a pre-purchase inspection done by an independent mechanic to make sure that what you are buying is mechanically and otherwise sound.
Get Cheap Car Insurance Coverage for Your New Vehicle Today with CheapInsurance.com
Buying a new car, or even a used car, is always an exciting time. The not-so-exciting time comes when you need to purchase insurance for your new ride.
Getting the best insurance for your car can be hard work, as you really need to compare as many car insurance quotes as possible before finalizing your coverage.
Fortunately, we are here to help you find the car insurance coverage you need—at the best possible price.
All you need to do is head to the top of this page and enter your zip code. You will find a wide selection of insurance quotes to choose from.
Once you have an idea of the auto insurance premiums that you could be paying, it will be time for you to contact the insurers that are offering you the cheapest rates to get a formal quote.
Getting car insurance should be quick, simple, and stress-free, and you deserve to get the best insurance rates possible.
At CheapInsurance.com, we've got you covered!