Many people want to know if it is less expensive to insure a motorcycle that it is to insure a car. Well, just like with car insurance, there is not an easy answer.  In a general sense, you could say yes, just because a motorcycle is less expensive than a car, therefore less to replace if it is stolen or damaged. However, there are other factors to consider when searching for the right insurance for your motorcycle, including how much coverage you want for accidents, uninsured motorist, and roadside assistance. You don't have to choose between quality and price, that what makes cheap motorcycle insurance worth looking into.
All About Cheap Motorcycle Insurance
Everyone on the road, no matter what kind of vehicle they are in, knows there is always a risk. However there have been numerous studies done and show that in the case of motorcycles, the risk of accidents is higher than that of a car. Mostly it is because motorcycles have a low profile and are difficult to see. Approximately 2/3 of all motorcycle accidents are caused by the other car violating the motorcycle's right of way. This makes it very important to consider more than just the minimum coverage that is required by law.
Another important reason to make sure you have complete coverage as a motorcycle driver is that you obviously have a lot less metal and frame structure to protect you. There is a higher chance you will be physically injured if you are in an accident on a bike, versus and accident in a car. Of course, using heavy boots, jacket, gloves, a helmet, and other safety gear can substantially lower the risk of getting injured. In fact, the National Highway Traffic and Safety Administration ( NHTSA) estimates that helmets saved 1,630 motorcyclists' lives in 2013, and that 715 more could have been saved if all motorcyclists had worn helmets.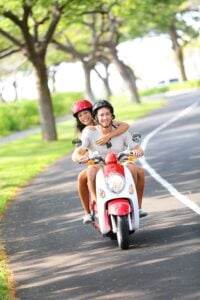 Therefore, not only do you want cheap motorcycle insurance, you also want the best motorcycle insurance. This is the minimum liability coverage required by the state of California, and remember that liability motorcycle insurance will not cover your own injuries or property damage.
$15,000 for injury/death to one person
$30,000 for total injury/death if multiple people are hurt in the accident.
$5,000 for damage to property
The state requires all operators and their passengers to wear an approved safety helmet at all times? Regardless of whether you ride a motorcycle, a motor-driven cycle, a motorized bicycle or a motorized scooter.
Customize Your Motorcycle Insurance
Just like with your auto insurance, you will want to adjust your motorcycle coverage depending on the factors that are important to you. Options include more for bodily injury and property damage, higher amounts for comprehensive and collision, uninsured motorist, and roadside assistance.
After you have signed up for coverage, your motorcycle insurance provider will electronically report the info on your private-use liability policy to the CA Department of Motor Vehicles. This process is automatic, so if you let your coverage lapse the state will suspend your registration for failure to maintain financial responsibility.
Discounts On Motorcycle Insurance
There are discounts available for motorcycle drivers, and you will want to make sure you take advantage of all the ones you are eligible for. Most insurance companies prefer safety-conscious, loyal customers, and offer their discounts to encourage safety
. You should find at least one type of discount you can use, such as these recommended by the Department of Motor Vehicles.
Safe rider and mature rider discounts.

Mature rider can relate to age, experience, or both.

Multi-vehicle discounts.
Discounts for bundling multiple policies (such as homeowners, auto, or life).
Discounts for living in a certain location, usually one considered safe with a low-crime rate.
Discounts for belonging to a motorcycle riding association.