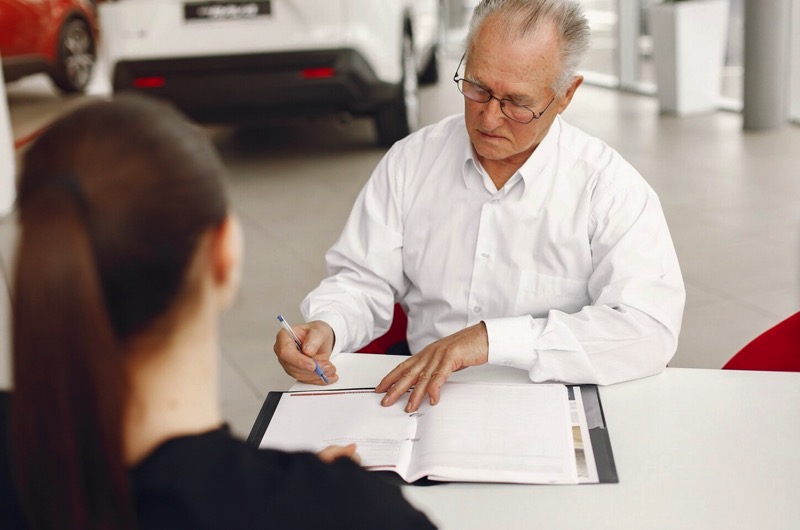 If you are in the market for a new vehicle, the option of a leased car may have come up as a viable choice.When leasing a car, you are essentially renting a vehicle, much like you would rent an apartment from its owner.
This means that you won't own the car, since the vehicle will be owned by the company that you are leasing it from.
Leasing a car has its pros and cons. In addition to giving you the ability to swap out your vehicle for a newer model every few years, the monthly payments on a leased car are generally lower than the installments on a car you buy.
For this reason, you will generally be able to drive a nicer car than when you outright buy and pay off a car. However, there are drawbacks to leasing a car.
For example, you can expect to pay an up-front fee and face extra penalties if you go over the allotted mileage for the leased car. In addition, you won't own the car at the end of the lease period.
The car insurance that you will need to take out on a leased car is something that you will also need to take into account.
In this article, we're going to cover how your car insurance will work for a leased car. You will discover all the types of insurance that you will need when leasing a new car, as well as what your insurance is likely to cost.
Is Auto Insurance Included When You Lease a Car?
A car leasing company typically won't provide car insurance along with your lease agreement.
After signing a car lease, you will need to buy the minimum amount of car insurance required by both your state and the lease agreement.
To avoid any delays in getting car insurance coverage in place after having leased a vehicle, ensure that:
If you already have auto insurance for any other vehicles, contact your car insurance agent and ask them to add the leased vehicle to your existing policy.
Apply for car insurance coverage before you pick up your leased vehicle and set the active date for when you plan to drive the car for the first time.
What Type of Auto Insurance Coverage Is Needed for Leased Cars?
Most companies that lease cars will require you to purchase full coverage car insurance. This means that you will often need a combination of liability insurance, collision insurance, and comprehensive insurance.
Let's take a look at what these three types of car insurance cover:
Liability insurance
When you lease a new car, you will need to purchase the minimum amount of car insurance coverage that your state requires.
These minimum amounts vary from state to state. All states with the exception of New Hampshire, require you to have some amount of liability insurance.
It is important to know that your car leasing company may require you to have higher liability limits than what your state asks for.
Liability insurance covers any injuries or property damage that you may cause during an accident. Let's take a closer look at what this entails.
Bodily injury liability coverage
This insurance covers the medical expenses of the other driver who may be injured in an accident that you've caused. Typically, this includes hospital bills, lost wages, and legal fees.
Property injury liability coverage
This coverage pays for any damage to the other driver's property after an at-fault accident.
Some states will also require you to have personal injury protection and uninsured/underinsured motorist coverage.
Collision coverage
This coverage insures you against damage to the leased car that is caused by any collision with another vehicle or object—such as a tree, fence, wall, or even an animal such as a deer.
Comprehensive insurance
Comprehensive coverage pays for any damages to your vehicle resulting from incidents other than a collision. This can include falling objects, fire, vandalism, and theft.
Key Point: Setting Your Car Insurance Limits
Even if the company doesn't require this, it is always a good idea to increase your liability limits to beyond the state's requirements.
This ensures that you will not be out of pocket for any expenses should you be involved in an accident that you've caused.
Comprehensive and collision coverage will be mandatory for a leased car. To ensure that in the event of an accident, you can cover the expenses related to any vehicle repairs, you should set your limits as high as you can afford.
Is Gap Insurance Needed for a Leased Car?
Gap coverage is not required by every state; however, car leasing agreements often require you to have Guaranteed Asset Protection, or gap insurance.
Gap insurance will cover you if your leased car is totaled in an accident and you still owe money on it.
If your leased vehicle is totaled in an accident, your auto insurance company will only pay out an amount that is based on the actual cash value (ACV) of the car after depreciation.
A car's cash value will depreciate as soon as you drive it off the showroom floor.
If you total the car and don't have gap coverage, you could end up owing thousands of dollars to the leasing company.
For this reason, and to protect their financial interests, leasing companies will most often require you to purchase gap insurance on a leased vehicle.
How gap insurance coverage covers leased cars
Let's say that you lease a new car for $35,000. A few months after you have leased the vehicle, you get into an accident that totals the car. If the vehicle's ACV is $20,000, your insurance provider will only pay you out this amount.
Even if you have paid $5,000 on the lease, you would still have to pay the remaining $10,000 to the leasing company.
Gap insurance coverage would cover the remaining $10,000 that you owe.
Is Insuring a Leased Car More Expensive?
Leasing a vehicle will not make your insurance rates more expensive than they would be if you had bought the vehicle.
Having said that, it is true that when leasing a vehicle, you will require the highest level of car insurance and need more coverage than what your state requires.
You will need full coverage car insurance when you lease a car. This insurance will cost an average of $270 per month, or $3,240 per year.
If you lease an expensive vehicle, such as a sports car or luxury car, you can expect to pay a higher car insurance premium.
When it comes to gap insurance, you could pay as little as $20 per year to have this in place. Auto dealerships are also able to offer you gap insurance; however, they typically charge a lot more for it.
The cost of gap insurance through a dealership may be included in your monthly car payment, or you may need to pay for it as a lump sum up front.
Other factors that could impact your car insurance rate include:
Your age.
Where you live.
Your driving history.
Your insurance claim history.
How Do You Insure a Leased Vehicle?
You will need to buy insurance for a leased vehicle before you drive it off the showroom floor.
Here are some steps that you can take to get your lease insurance in place before you drive your new car:
Check with your leasing company about how much the insurance coverage limits are that they expect you to have in place.
Shop around and compare quotes from multiple companies to find a combination of the best price and coverage. To start this process, you can simply head to the top of this page and enter your zip code—we will provide you with dozens of personalized quotes that you can choose from.
Ask insurers about discounts that may be available to you. Although your leasing company may determine your deductible amount, there are many other ways that you can save on car insurance through discount offers.
In addition to being the registered driver on your car insurance policy, your leasing company will require you to list them as an additional insured party and loss payee on your car insurance policy.
As a result of this, they will be notified of any changes that you make to the car insurance policy. They will also receive any claim payouts.
Once you have finalized your auto insurance policy, you should send your insurer a copy of your car insurance policy. They will need you to do this before you can drive off in your new vehicle.
Get Cheap Car Insurance Coverage for Your Leased Car Today with CheapInsurance.com
Leasing a new car is an exciting time—you can look forward to getting a brand-new car that will typically cost you less per month than buying a car outright.
However, your insurance costs may be higher as you will need to purchase personal injury protection, liability car insurance, gap coverage, collision coverage, and comprehensive coverage.
At CheapInsurance.com, we recommend that you compare as many insurance quotes as possible to make sure that you are getting the best possible coverage at the lowest monthly cost.
But getting the best insurance for your car can be hard work. Fortunately, we are here to help you find the car insurance coverage you need—at the best possible price.
All you need to do is head to the top of this page, enter your zip code, and answer a few short questions about your driving habits, requirements, and history. We will then provide you with a wide selection of insurance quotes to choose from.
Once you have an idea of the auto insurance premiums that you could be paying, contact the insurers that are offering you the cheapest rates to get a formal quote.
Getting car insurance should be quick, simple, and stress-free, and you deserve to get the best insurance rates possible.
At CheapInsurance.com, we've got you covered!