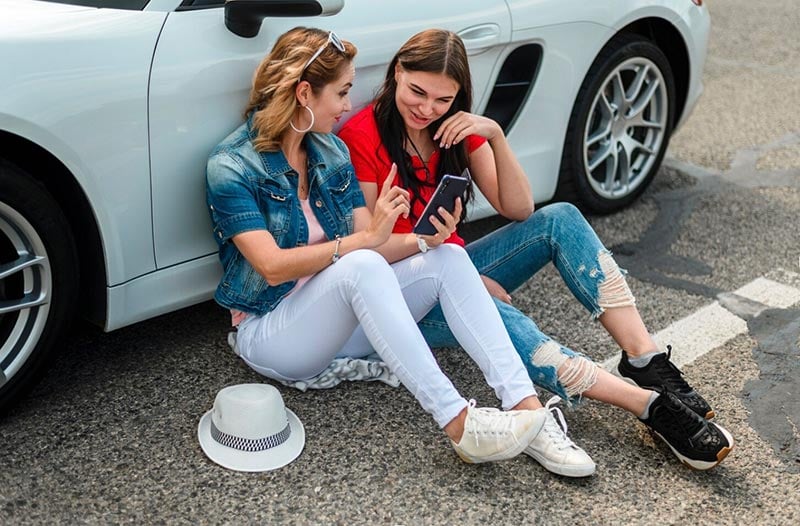 How To Get Cheap Car Insurance For Drivers Under 25
Just because you are under the age of 25, does not mean that you can't get affordable car insurance coverage.
Although age is a factor when auto insurance companies calculate premiums, you can still get the best car insurance if you follow the right steps.
In fact, you may even be eligible for special auto insurance discounts.
In this article, we cover how young drivers can get the best car insurance rates, while also taking a look at what they can expect to pay for car insurance.
What Type of Car Insurance Coverage Is Best for Young Drivers?
Let's first break down a few basic car insurance terms that you will need to know before deciding what car insurance you need:
Deductible
This is the amount of money you will need to pay before your insurance company will pay their share. For example, if your deductible is set at $500, you will first need to pay this toward any claim that you make with your insurance company. They will then pay the rest of the claim.
Premium
Car insurance premiums are the amounts of money that you pay to your insurance company to have car insurance in place. Typically, you will pay your premium monthly.
Coverage limit
Your coverage limit is the maximum amount of money that your policy will pay for each type of coverage that you have. If you exceed your policy's coverage limits, you will be responsible for the remaining costs.
When choosing the best auto insurance policy for younger drivers, the best approach is to first do a needs assessment. Your needs assessment should consider:
How much you drive
Do you only drive the car on weekends, or do you need to drive to college or work every day?
Tip: Driving more often means that you will need more comprehensive insurance, as you are at a greater risk while driving and parking your car.
The state you live in
Does your state regularly experience serious weather events such as hail, floods, or hurricanes?
Tip: When you live in states where the weather is mild, you will need less insurance than in those where your car may become damaged due to severe weather events.
The area where your car is parked
Do you live in a safe neighborhood and is your car parked behind locked gates or in a garage? Do you drive and park the car in safe areas?
Tip: Living, studying, working, and shopping in safer areas means that your car is less likely to be stolen or become damaged. This means that you will be less of a risk to your insurer and your car insurance premiums may therefore be lower.
Your budget
Do you have a set amount of money that you have available to spend on car insurance costs every month?
Tip: Knowing how much money you have to spend on car insurance will help you decide the level of coverage you can afford to take.
Your car
Do you drive a new car or an older model? Are there any aftermarket customizations that you have done on the vehicle?
Tip: Car insurance for new cars can be more expensive, as well as insurance for cars with any customizations to the wheels, paintwork, and so forth.
Once you fully understand your insurance needs and your budget, you can then start thinking about how much auto insurance you need.
How Much Auto Insurance Coverage Do I Need?
Before you start gathering car insurance quotes, it is important to know all the different types of insurance that you could get.
Let's take a look at what car insurance companies can offer you:
Liability coverage
Liability insurance covers the medical expenses and damage repair costs if you cause an accident.
With the exception of New Hampshire, all states in the U.S. will require you to have a minimum amount of insurance coverage in order to drive legally.
Liability coverage is generally split into three digits, for example: 25/50/15.
In other words, this policy would cover you for up to $25,000 in medical, legal, funeral, and lost wage costs, limited to one person in the other vehicle. This is called 'Bodily Injury Per Person'.
If there are multiple injuries, then the second number comes into effect. This is called 'Bodily Injury Per Accident'. In this case, your insurer would pay up to $50,000 to help with the medical costs of everyone injured in the accident.
The third number relates to 'Property Damage Per Accident'. In this case, $15,000 is the amount that your insurer will pay to replace or repair the other vehicle or property that you damaged.
In many cases, the state minimum is not enough to cover your costs if you cause an accident, and you could end up paying for damages and medical expenses out of pocket.
Many insurers recommend that you have at least $500,000 worth of coverage for property damage liability and bodily injury liability.
Comprehensive coverage
This coverage is intended to protect you against events such as:
Weather events (hail, wind, floods, lightning, earthquakes, etc.).
Fire and explosions.
Riots.
Falling objects (trees, rocks, debris, etc.).
Damage caused by rodents.
Car accidents with animals.
Comprehensive coverage will pay to replace or repair your car—as long as the damage is not due to a collision.
Collision coverage
Collision insurance covers the cost to repair or replace your car if you're involved in an accident with another vehicle or object. No matter who is at fault—collision cover will pay for these expenses.
When deciding whether you need collision coverage, the best way to decide is to consider whether you have the money to repair or replace your car yourself. If you can't, then it is best to have this coverage.
Uninsured and underinsured motorist coverage
This coverage covers the medical expenses of you and your passengers that result from a hit-and-run accident, where you can't get the insurance information of the other driver.
It also protects you financially when the other driver has no liability coverage in place, or does not have enough liability insurance.
There are some states that require you to have this coverage; however, in most states it is entirely optional.
Medical payments coverage
Whether you are covered by health insurance or not, medical payments coverage will settle any reasonable medical expenses for you in the event of an accident—no matter who is at fault.
Depending on the state that you live in, this coverage may be required.
Personal injury protection (PIP)
Although it is similar to medical payments coverage, personal injury protection offers more extensive medical coverage.
Here are some instances where personal injury protection will provide cover for you:
Medical expenses.
Funeral costs.
Physical or occupational therapy.
Substitute services like childcare.
Partial lost wages.
Funds to hire subcontractors to complete your work (if you're self-employed).
What Can I Expect to Pay for Auto Insurance as a Young Driver?
Age alone does not determine your auto insurance premiums. There are a few factors for you to consider which can provide you with cheaper car insurance rates.
These include:
The type of vehicle you drive.
Accident and auto theft statistics in your area.
How often you drive your car.
The coverages you have chosen.
Safety features of your vehicle.
Whether you buy your policy up front.
We did a little research into the cheapest car insurance companies and based on our results, Mile Auto offers the most affordable auto insurance rates, followed by National General.
As a young adult, you can look at paying an average of $105 per month with the cheapest car insurance provider, if you are between the ages of 18 and 25.
Here are some of the auto insurance rates we found for you to consider.
| | | | |
| --- | --- | --- | --- |
| Age | Provider | Average Monthly | Average Annual |
| 18 | Mile Auto | $101.00 | $1,212.00 |
| | Mercury | $573.00 | $6,876.00 |
| 19 | Mile Auto | $81.00 | $972.00 |
| | Mercury | $330.00 | $3,960.00 |
| 20 | Mile Auto | $78.00 | $936.00 |
| | Mercury | $330.00 | $3,960.00 |
| | Aspire General | $774.00 | $9,288.00 |
| 21 | Mile Auto | $71.00 | $852.00 |
| | Mercury | $291.00 | $3,492.00 |
| | Aspire General | $741.00 | $8,892.00 |
| 22 | Mile Auto | $68.00 | $816.00 |
| | National General | $171.00 | $2,052.00 |
| | Mercury | $291.00 | $3,492.00 |
| | Aspire General | $623.00 | $7,476.00 |
| 23 | Mile Auto | $66.00 | $792.00 |
| | National General | $164.00 | $1,968.00 |
| | Mercury | $291.00 | $3,492.00 |
| | Aspire General | $607.00 | $7,284.00 |
| | Mile Auto | $63.00 | $756.00 |
| 24 | Sun Coast | $178.00 | $2,136.00 |
| | National General | $155.00 | $1,860.00 |
| | Mercury | $223.00 | $2,676.00 |
| | Aspire General | $601.00 | $7,212.00 |
| | Mile Auto | $61.00 | $732.00 |
| 25 | Sun Coast | $170.00 | $2,040.00 |
| | National General | $147.00 | $1,764.00 |
| | Mercury | $223.00 | $2,676.00 |
| | Aspire General | $583.00 | $6,996.00 |
To get an accurate quote for your car insurance needs, simply head to the top of this page and insert your zip code. We'll ask you for a few more details and provide you with a wide range of cheap auto insurance quotes that you can choose from.
Are There Any Discounts Available for Young Drivers under the Age of 25?
A car insurance company may offer you a variety of discounts that have been designed specifically for young drivers. Here are a few that you may be eligible for, depending on your state:
Good student discounts
If you are a full-time student under the age of 25, you could qualify for a discount on your car insurance that will help reduce your car insurance payments. To receive this discount, you will need to maintain good grades—typically a B average.
Discounts through work
Some companies offer special discount programs which allow young adults to qualify for an auto insurance discount. Your human resources (HR) department will be able to advise you if there is a group car insurance discount plan in place.
Multi-policy discount
If you have moved out of your parents' house and rent an apartment or own your home, you could be eligible for a discount by taking out renters insurance or homeowners insurance with the same company.
Pay-per-use car insurance
If you are working or taking classes remotely and only use your car occasionally, or if you tend to use public transportation frequently, then you may be eligible to get a pay-per-use car insurance policy.
While the abovementioned options are standard discounts that are on offer through most insurance companies, there may be others available, too. Be sure to check with your insurer to see what other discounts they offer so that you can save on your car insurance.
Get Cheap Car Insurance Today with CheapInsurance.com
As a driver under the age of 25, you may be concerned about how much you are going to pay for your car insurance.
The good news is that you can get cheap car insurance even if you are considered a young adult driver.
Finding a good policy at a fair price can be a time-consuming process, which is why we are here to help you find the insurance coverage that you need—at the best possible price.
All you need to do is head to the top of this page and enter your zip code. You will find a wide selection of insurance quotes to choose from.
Once you have an idea of the auto insurance premiums that you could be paying, it will be time for you to contact the insurers that are offering you the cheapest rates to get a formal quote.
Getting car insurance should be quick, simple, and stress-free, and you deserve to get the best insurance rates possible.
At CheapInsurance.com, we've got you covered!