How much insurance do you need for a used car? Buying insurance for a used car generally follows the same procedure as buying it for a new car. However, there are a few differences you will need to consider if you want to get the best cheap car insurance for your used car.
According to AAA's annual Your Driving Costs study, you'll pay an average of $1,106 a year for insurance coverage on the average sedan. Of course, that price tag can vary a great deal based on the driver's record, the type of car and even where the driver lives. Car insurance rates are determined partly by the expected damage to your car in a worst case scenario, in which the car is totaled. If the car you choose is low cost to begin with, then the insurance to replace it will also be low.
The drawback to having a used and less expensive car is that they commonly do not have the safety features that come with newer model vehicles, which can lower your rates. In addition, older cars tend to be at higher risk for theft because car thieves can easily disassemble them and sell their parts for profit. The National Insurance Crime Bureau (NICB) reports that 7 of the top 10 most commonly stolen vehicles in 2012 were models dating from 1991 to 1999. Check out the NCIB's Hot Wheels campaign to learn more about which cars are commonly stolen. You can help lower your insurance costs by installing your own anti-theft devices, provided they are approved by your insurance company.
Although you will probably have lower insurance payments because used cars are less valuable, you are still required to purchase the minimum state required liability coverage which is at least $15,000. If you own your vehicle, outright, you can choose whether to simply buy liability insurance, or to buy optional expanded coverage to protect your auto. However, if you have valuable assets, such as property or savings account, you may want to protect these assets in case of accident in which the injured party files a lawsuit against you. Several variables beyond the price of the car can have an effect on your rates, including:
The car's individual history and the model's reputation may have additional impact on your rates. When you make your decision to buy a used car, check the car's VIN (vehicle identification number) and be cautious if the car has ever been salvaged. If your car includes the words "turbo" or "supercharged" in the name, or if it is a highly powerful or four-wheel drive vehicle, your rates will experience a significant increase.
If your car has ever been in a serious accident and been rebuilt or had any other serious modifications or repairs made, your rates may be significantly higher. Check the vehicle's detailed history report to see if this is the case
Determining Used Car Insurance Coverage
You can save money when insuring an old car by only purchasing the car insurance coverage you need. Beyond the state law liability insurance requirements, you may wish to opt out of some of the extra coverages that offer additional protection. For example, comprehensive coverage pays for damages caused by incidents such as fires, vandalism, and thefts that are not related to accidents. Collision insurance pays for damage from striking an object or another car. The maximum payout you can get from comprehensive and collision insurance is the value of your car, so purchasing these options might not be worth your while. If you drive a dated VW Bug worth only $1,500, it is probably not worth it to pay each month for comprehensive coverage in case of an accident. A good rule is to drop these coverages if they cost more than 10% of the value of your car each year.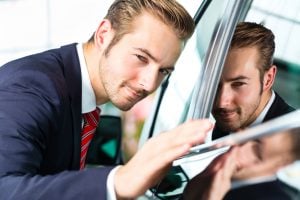 Your deductible is another aspect of your insurance that you can vary to fit your budget. Your chosen deductible is the amount you are responsible to pay before the insurance covers you. The costs of this coverage will vary between $500 and $2,000. You can also choose to have a $0 deductible. The lower your deductible the higher your insurance payments will be, but the less you will need to pay out of pocket in case of an accident.
It's always a good idea to comparison-shop for the best cheap car insurance rates. In this age of technology, it is easy to receive insurance quotes online and give yourself an idea of what you might pay for different types of auto insurance coverages. Irrespective of your vehicle type or age, make sure to get suitable coverage that fits your needs and budget.

[vifblike]