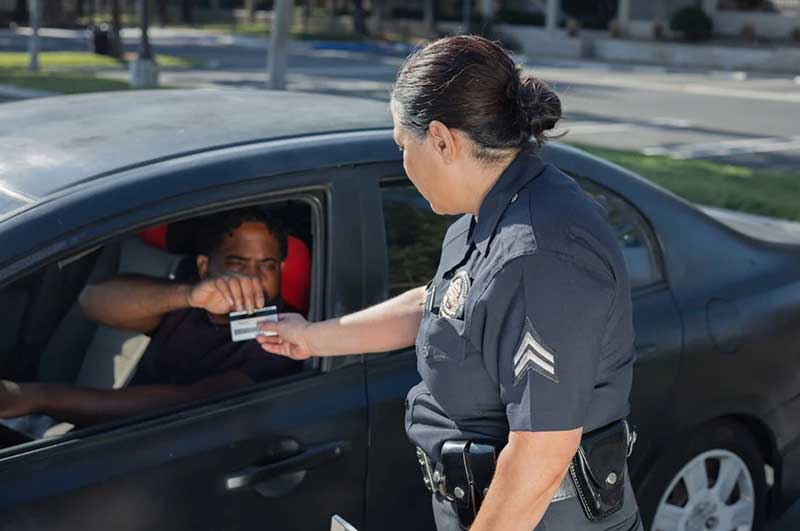 Is It Illegal To Drive Without Car Insurance?
The short answer to your question is yes, it is illegal to drive without car insurance.
In fact, driving without insurance is against the law in all 50 U.S. states—with the exception of New Hampshire.
You may be wondering what driving without car insurance may mean for you, and whether it can lead to penalties like fines, a license suspension, or worse.
In this article, we outline all the information you need to know about driving with and without auto insurance, including how to find cheap car insurance that suits your specific needs.
Firstly, Is There a Difference between Driving without Auto Insurance and Proof of Insurance?
Not having car insurance and not being able to prove that you have insurance are two very different traffic violations.
Not having auto insurance means that you don't have the coverage in place that would protect you financially if a car accident were to occur.
On the other hand, not having proof of insurance means that you do have an auto insurance policy, but that you don't have the necessary proof of your insurance with you.
In most cases, the penalties for not being able to provide proof of insurance—even though you have an active car insurance policy—are significantly less severe than if you do not have car insurance at all.
If you have committed this violation, fines range from anywhere between $50 and $3,000. These amounts vary by state.
As long as you submit your proof of car insurance within the time frame specified by the police officer, your fine shouldn't be too severe.
While not having proof of insurance is a traffic violation, driving without insurance is a much more serious offense.
What Type of Auto Insurance Do You Need?
In most states, you will be required to carry a minimum level of car insurance. This is commonly referred to as minimum liability car insurance.
As part of this minimum insurance, you will need:
Bodily injury liability
This will cover any medical costs of people in the other vehicle when you're at fault in an accident.
Property damage liability
This insurance covers damage to the other car or personal property (such as a fence or mailbox) when you're at fault in an accident.
Before you buy car insurance coverage, be sure to check the specific requirements for your state.
Medical payments coverage and personal injury protection, which both cover personal medical costs if you are in an accident, may also be needed depending on the state that you are living in.
Uninsured/underinsured motorist coverage may also be mandatory.
Key Point: What Is Medical Payments Coverage, Personal Injury Protection, and Uninsured/underinsured Motorist Coverage?
Medical payments coverage, also known as MedPay, helps to pay the medical expenses of you or your passengers—even if you are at fault in an accident.
Personal injury protection (PIP), also known as no-fault insurance, covers the medical expenses and lost wages of both you and your passengers if you're injured in an accident.
Uninsured motorist coverage protects you financially if you're hit by a driver who does not have auto insurance.
Underinsured motorist coverage helps pay for the cost of damages and injuries caused by a driver who does not have enough insurance to pay for them.
When you're in the process of choosing the insurance cover that you need and can afford, be sure to contact your insurance company to discuss your options.
They will help you make sure that you have the right amount of auto insurance cover in place.
What Are the Consequences of Driving without Car Insurance?
When you are found driving without car insurance, the consequences will vary depending on the state that you are driving in.
The most common penalties for driving without car insurance include:
Fines of up to $5,000
If you get caught driving without auto insurance, at the very least, you can expect a hefty fine.
A suspended driver's license
In some states, your license may be suspended and may not be reinstated until you get auto insurance.
In some states where the laws are particularly harsh, you could lose your license for up to a year. Some of these states include:
Suspended vehicle registration
Driving without car insurance could mean losing the registration for your vehicle.
In some states, your vehicle registration will be suspended indefinitely until you are able to provide proof of insurance.
Vehicle impoundment
In some states, the police will impound your vehicle if you get caught driving without insurance.
Jail time
Driving without insurance can mean jail time for you in some states.
Although this is usually not the penalty for first-time offenders, depending on the situation, you could face imprisonment for up to a year.
If you cause an accident while driving without insurance, you will be responsible for the cost of all damages and medical bills.
This is why in states like New Hampshire, though you may technically drive without insurance, you will be required to demonstrate financial responsibility for any damage or injuries if you are liable in an accident.
How Do Police Catch Uninsured Drivers?
Police officers use various ways to catch uninsured motorists and as technology advances, they have more resources available to them to do so.
Vehicle checkpoints
At key holiday times, and for other reasons, the police can set up checkpoints where they will ask for your license, registration, and insurance.
If you fail to provide proof of insurance at a vehicle checkpoint, you will be fined. If you have no insurance coverage at all, there is a good chance that your vehicle will be confiscated.
Traffic violations
Every time you are pulled over for a traffic violation, the police officer will ask you for your license, registration, and proof of insurance.
If you don't have insurance cover in place, your license will be suspended and you could face further hefty fines.
How Do the Police Verify Your Insurance?
Many police departments have access to their state's insurance database. This database includes the details of every car that has insurance.
The police are able to run your plates through an electronic verification system which they can access directly from their in-car computers.
If a police officer pulls you over, he or she will often simply check your auto insurance paperwork or insurance card and then check your plate number against what your proof of insurance states.
What Happens If You Get into an Accident without Auto Insurance?
If you cause an accident and do not have auto insurance in place, you will need to pay for all damages out of your own pocket.
If you don't pay for these damages, you could be sued.
After an accident, once you do decide to buy auto insurance, you will have to pay far higher rates for coverage as you will be seen as a high-risk driver.
How Can You Avoid Penalties for Driving without Insurance?
There are a few simple ways to make sure that if you do get pulled over by the police and asked for your proof of car insurance, you have what you need at hand:
Don't let your car insurance lapse
If you want to cancel your auto insurance, rather discuss this with your insurer first and formally let them know.
A late insurance payment will cause your insurance company to cancel your cover, often without notice.
In addition, if you simply stop making payments without giving your insurance company notice, you could end up being responsible for late fees.
Don't allow a lapse in insurance when changing insurers
Only cancel your old auto insurance policy once you know that the new insurance policy is in place and has taken effect.
Don't cancel insurance if you take your car off the road.
If your car is no longer being driven, check with your state's Department of Motor Vehicles (DMV) to understand the rules in terms of canceling insurance coverage.
What Should You Do If You Are Currently Driving Uninsured?
If you are driving your car without insurance, the most important first step is to shop around and buy the auto insurance that suits your needs and that you can afford.
We recommend that you purchase at least the minimum coverage required by your state before you get behind the wheel.
This will protect you financially if an accident occurs and will save you a lot of unnecessary legal troubles related to uninsured driving.
Always keep your proof of insurance and your driver's license with you when you drive.
Your proof of insurance could be in the form of a card or paperwork that your insurer will issue to you when you purchase your insurance.
Where and How Can You Purchase Cheap Car Insurance?
Finding a car insurance company that can assist you with efficient service and excellent premiums can be challenging.
Fortunately, when it comes to looking for a new insurer, we make this task very easy with our free quote generator.
All you need to do is head to the top of this page and enter your zip code. You will find a wide selection of insurance quotes to choose from.
Once you have an idea of the auto insurance premiums that you could be paying, it will be time for you to contact those insurers that are offering you the cheapest rates to get a formal quote.
Getting car insurance should be quick, simple, and stress-free, and you deserve to get the best insurance rates possible.
At CheapInsurance.com, we've got you covered!