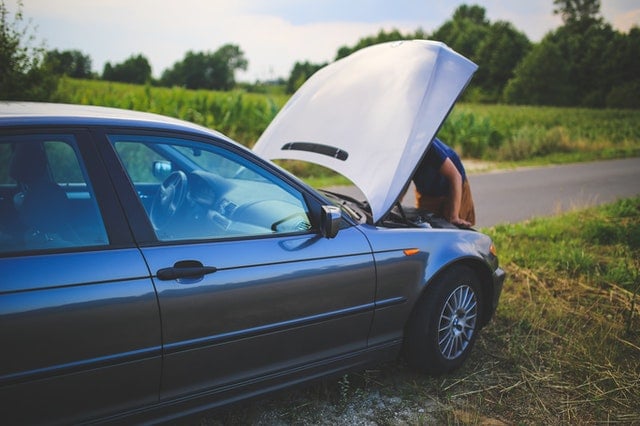 How's your roadside emergency car kit looking? Whether you currently have one or not, Cheap Insurance is here to make sure you know how to build a reliable kit that will safeguard you and your loved ones.
Why You Need a Roadside Emergency Car Kit
Do you want to be that person stranded on the side of the road? We didn't think so. It doesn't matter what kind of vehicle you drive—everyone should have an emergency car kit. 
The reality is, you can't predict when you'll get into an accident, when your car might fail to turn on, or when you might injure yourself. It's better to be safe than sorry, and a roadside emergency car kit is a simple and easy way to stay safe and enjoy some peace of mind.
You never know what you'll encounter on the road, so it's best to be prepared. 
How to Build Your Own Roadside Emergency Car Kit: The 8 Main Items You Need
Building your own car emergency kit starts with keeping safety in mind. Below are eight key items that can offer the support you need. 
1. Jumper Cables 
Your car battery should be replaced every five years, but circumstances like freezing winter weather and hot summer days can quickly drain a car's battery. 
That's why you need to have a pair of jumper cables in your trunk. With them, you can get a jump from a neighbor, friend, family member, or passing driver. Your local auto parts store can help you pick out a pair of jumper cables.
2. Tire Pressure Gauge
You don't need a fancy digital gauge to check your tire pressure. What you need is an accurate one that provides consistent readings. So when you purchase your gauge, be sure to test it out a few times to ensure it's working properly. 
Also, check what the recommended tire pressure is for your car. You can usually find this information in your owner's manual or on a sticker located on the driver's door.
3. Reflective Triangles
Reflective triangles will warn passing drivers of your roadside hazard, which will give them time to slow down and move over to give you some space. The triangles can also help emergency personnel spot your vehicle more easily during less-than-clear conditions. When you use them, be sure to spread the triangles evenly behind your vehicle. 
4. Flashlight (with Extra Batteries)
Like reflective triangles, flashlights can help signal to passing cars. Flashlights are also useful when dealing with problems under the hood or digging around your trunk at night. 
5. First Aid Kit 
You never know what you'll need in an emergency. If you're hurt, you want to have some items to help you manage your injury promptly. 
Here are some good things to add to your first aid kit: 
Gauze

Tape

Bandages

Antibiotic ointment 

Aspirin 

Non-latex gloves

Scissors

Hydrocortisone

Thermometer

Tweezers

Instant cold press
You can put your first aid kit together yourself, or you can find one at a general store near you.
6. Water and Snacks
Keep a stash of non-perishable snacks and water bottles in your car. In case there is a time when you're waiting a few hours for a tow truck, food and water will help replenish you and make car troubles just a little bit more tolerable.
7. Portable Phone Charger
If your car breaks down, you want to make sure your phone is adequately charged so you can find help right away. Depending on the condition of your car, using your car charger might just be a dead end. This is when a portable phone charger or a power bank will come in handy. They'll charge your phone on the go, whether your car decides to start or not. 
8. Compass and Map
It's always handy to have a compass and map with you in case your phone's navigation app is not an option. Especially during times when you're road-tripping to unfamiliar places, these resources can lend a hand.
5 Key Winter Items
Winter driving is especially risky. There's the possibility of sliding off an icy road, being stuck in a blizzard, and more. With that said, here are five winter essentials you should add to your roadside emergency car kit. Again, it's best to be prepared!
1. Ice Scraper
There's nothing more frustrating than walking outside and seeing your car's windows with a frosted veil of ice or snow. Your windshield wipers won't do much good, especially if you want to see the road while driving clearly. 
Keep an ice scraper with a long handle in your car so you can scrape off ice from your windows, mirror, and lights. 
2. Shovel 
Another less-than-ideal scenario is getting stuck in a snow pile or mud puddle. In these cases, a shovel can save the day. 
It's good to have a compact shovel that can fold, so it takes up minimal space in your vehicle. Check out your local grocery or hardware stores during the winter months for portable shovels.
3. Sand or Kitty Litter 
If your vehicle has rear-wheel drive, sand or kitty litter bags can offer some support while driving in the rain or snow. Put a few bags in your trunk to add more weight and traction to your vehicle. 
You can also pour sand or kitty litter around your tires in the event you get stuck in snow, slush, or mud. They'll provide some grit to your tires to help you get out of the mess. 
4. Snow Chains
Snow chains might come in handy if you encounter a bad winter storm. Make sure your chains fit your tires before adding them to your roadside emergency car kit.  Auto store personnel can help you select a size that's right for your tires and show you how to install them. 
5. Blankets and Sweaters 
Having to wait it out on icy and cold roads can get pretty difficult, especially if you don't have warm blankets and clothes. Be sure to have the following with you: 
Blankets 

Jackets 

Sweatpants

Socks

Boots 

Gloves 

Beanies
Put these items in your trunk. Tight on space? Find some pocket-sized heat-reflective blankets and down jackets. You can also consider putting gloves, socks, and beanies in your glove compartment or the side door compartment to manage your space better.
Get Support from Cheap Insurance 
On top of putting together an emergency preparedness kit for your car, you must have reliable and affordable insurance to ensure you're compensated for any damage. So our parting advice is to find reliable and cheap insurance. 
Insurance can be costly, but there are deals out there you don't want to miss. If you need further guidance, don't hesitate to contact the team at Cheap Insurance.