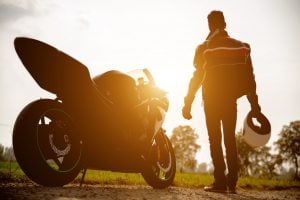 The cost of liability motorcycle insurance can range from $100 to more than $400 per year for basic minimum insurance requirements. However, just like car insurance, cheap motorcycle insurance can vary tremendously depending on the coverage level you choose, the state you live in, and your personal driving record. On average, the cost of motorcycle insurance is less than that for cars, but the method of calculation is very similar.
Motorcycle insurance is required in 47 out of 50 states, but not every state requires the same amount of coverage. Each state has its own minimum requirements for bodily injury and property damage liability and if you add other coverage levels to your policy, you will pay more. Drivers above the age of 25 with a good driving record usually qualify for good prices. If you combine those factors with liability only coverage and a touring bike, motorcycle insurance will cost around $200 to $500 a year.
State laws are a primary influence on the price of your premium, as each state that requires motorcycle insurance has a different minimum requirement. That is for basic minimum insurance requirements, and if you add other coverage levels to your policy, you will pay more. Since motorcycles are considered inherently dangerous, collision and comprehensive coverage might not be a bad idea. You will also pay more if you live in an urban area, such as Los Angeles or Miami, than if you live in a suburban or rural community.
Variables For Motorcycle Insurance

Your State: Nearly every state requires motorcycle liability insurance, but the minimum limit is different from state to state. The costs of collision and other forms of motorcycle coverage vary by state as well.
Your Bike: The size, weight, and make of a bike can radically impact the cost of motorcycle insurance. Therefore, you might want to make your buying decisions based on how much it will cost in the long run. The make, model and year of your motorcycle will affect the cost of
insurance. A new bike will cost more to repair or replace than one that is five years old. How powerful an engine it has, and whether you've added a turbo kit and other enhancements, will also affect your insurance costs.
Your Driving: Your age and driving history are also taken into consideration with liability insurance. Statistics show that younger drivers are more likely to be in a serious accident, which means the cost of coverage is higher. Motorists with a history of collisions and traffic violations on their driving record will also pay more. If you have completed any motorcycle training courses, that can also help reduce your premiums.
Usage: If you use your bike on a daily basis to get to and from work, you are on the road a lot, and therefore your risk for an accident is higher. If you only take your motorcycle out on the weekends, you are not as likely to have any issues.
Storage: If you keep your motorcycle stored in the garage rather than parking on the street, there is less opportunity for theft or damage. If you limit the amount of miles you ride on a monthly basis, your risk also goes down. Anything you can do to minimize the possibility of a motorcycle insurance claim will likely lower your premiums.
In conclusion, insurance companies will issue you a motorcycle insurance quote based on your age, county of residence, driving record, credit history, and other factors. They will also consider the type of bike you've purchased, where you will be riding it, and how often it will be on the road. When getting a quote for cheap motorcycle insurance, ask about ways to lower your premium. One way to do this is to try to pay the entire premium up front, rather than one month at a time. This normally qualifies you for at least a small discount. If you also drive a car, put your motorcycle on the same insurance policy as your other vehicles to take advantage of multi-policy discounts.

[vifblike]