Americans are retiring later in life than they did 30 years ago. While the underlying causes of this trend are as diverse as the population itself, expectations for retirement have had to adapt and adjust to economic reality, leaving many Americans to question how and where to make the most of their golden years.
Most retirement counseling suggests engaging with the world socially, physically, and creatively is essential to finding joy and fulfillment after leaving the workforce. Decluttering, working part-time, and traveling are popular suggestions for a successful post-working lifestyle, but the ambiguity in these options can be intimidating and confusing. What are the tried-and-true activities for people in retirement, and where are these activities most accessible for seniors?
There's no need to start at the drawing board: CheapInsurance.com identified five popular retirement activities and visualized the cities with the greatest public access for participating. The top cities for each activity are based on data collected for the 100 most populated cities in the U.S. by Trust for Public Land, normalized by the overall population in each city. The senior population for each city is also included.
Whether relocation in retirement is the dream or you're simply looking for inspiration, keep reading to find out how and where retired adults find fulfillment.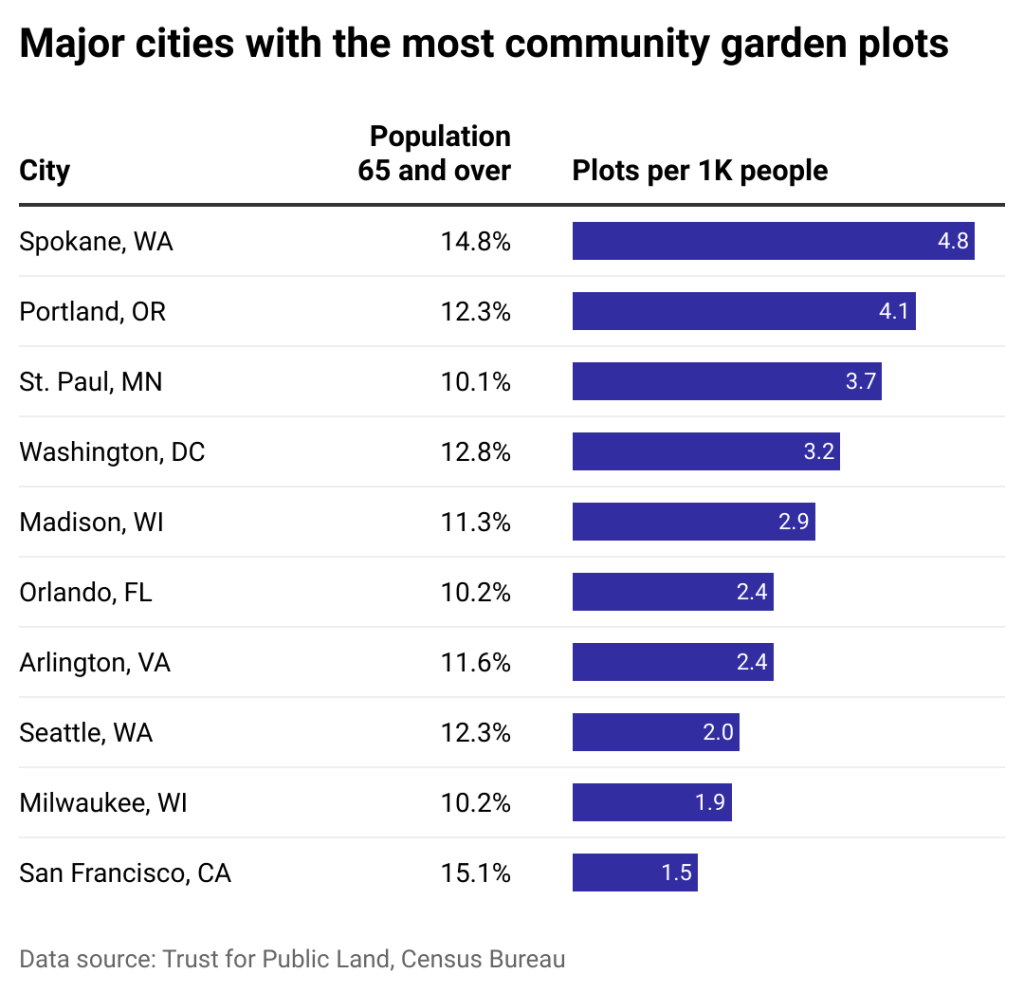 Gardening
Gardening is a hobby that combines the physical benefits of full-body exercise, exposure to sunlight, and contact with nature, but the benefits for retirees don't stop there. A key element to a fulfilling retirement is the establishment of a new daily structure, and gardening offers a comforting routine that can benefit a person's home (and culinary endeavors) and provide a much-needed respite from too much time indoors.
Perhaps most importantly, gardening can strengthen one's community. Community garden plots allow people to share expertise, develop friendships, and work on common goals. These social connections develop feelings of empowerment, resilience, and belonging, essential tools for maintaining mental health in retirement.
Portland, Oregon, boasts 60 community garden lots. The community gardeners partner with schools, hunger-relief agencies, and Native American groups to gather, support, and educate through gardening.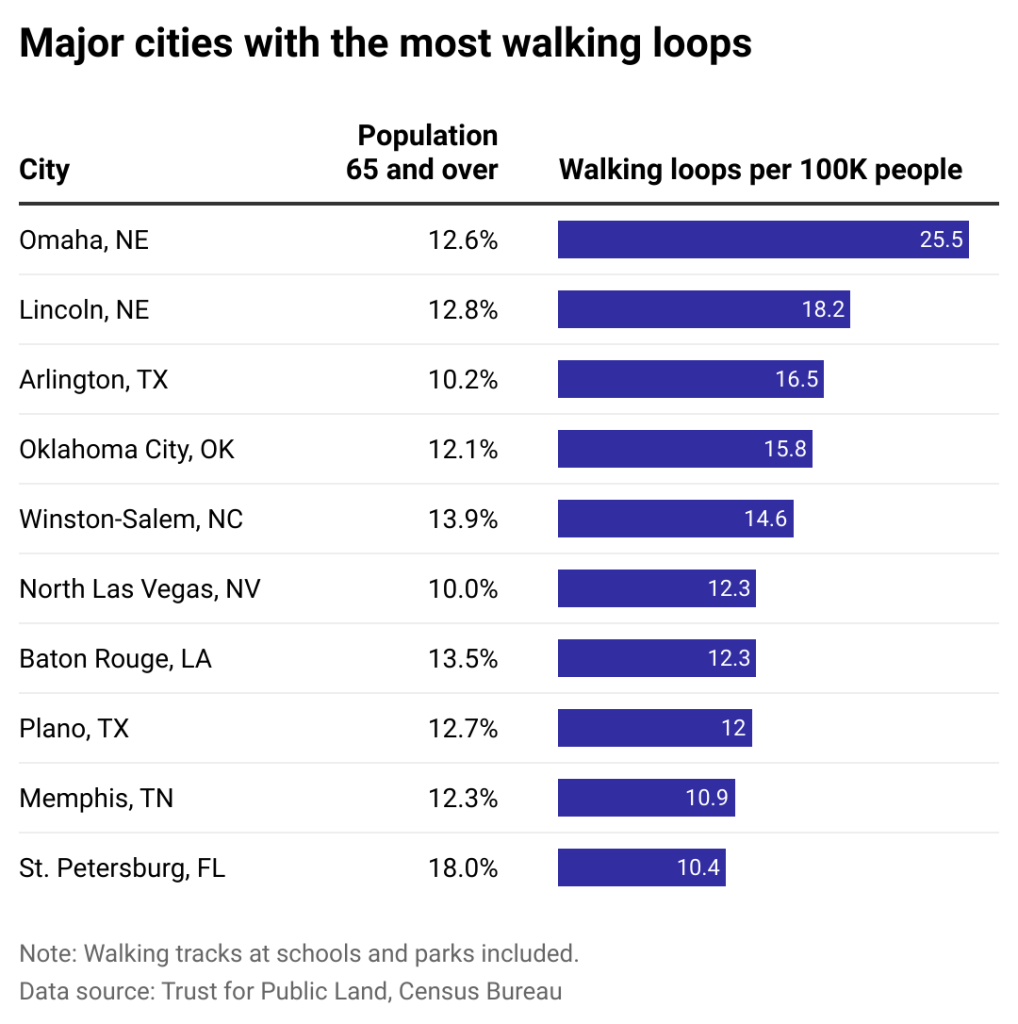 PROTECT PROPERTY WHERE YOU LIVE



Find out how

surprisingly 

affordable it is to protect your property by getting a quote for 

cheap renter insurance

.
Walking
Experts generally agree regular physical activity is one of the most important ways to stay healthy as you age. Walking is free and low-intensity, and it also plays a role in preventing a wide range of health problems in older adults.
A walk through the park or around one's neighborhood can be calming, centering, and advantageous to mental and physical health, AARP research shows. Walking-related activities such as bird-watching and hiking add compounding benefits—exposure to nature improves concentration and lowers stress. Bird-watching, in particular, has been linked to increased memory, concentration, and connection.
Lincoln, Nebraska, is a great city to discover on foot. The Sunken Gardens, Holmes Lake Park, and Pioneers Park are just some free nature attractions the city offers. With 134 miles of trails through woodlands, wetlands, and prairie, the city is great for basking in bird and other wildlife views.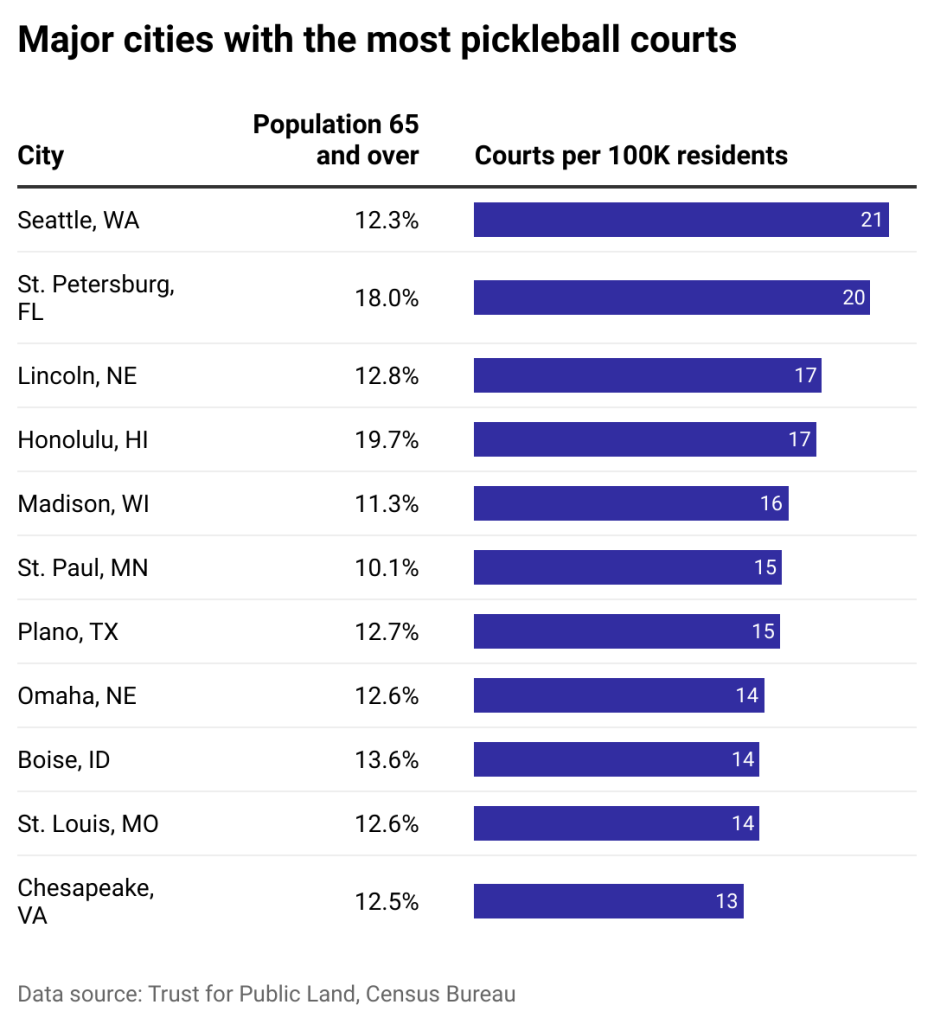 Pickleball
While all sports boost cardiovascular strength and improve general health for older adults, pickleball is easy to learn and thus can be enjoyed by people of all ages and athletic abilities.
Pickleball can boost heart health, improve balance and strength, and is easier on one's joints than other racket sports. It's no wonder the Sports & Fitness Industry Association dubbed pickleball America's fastest-growing sport for the third year in a row. Retirees can also benefit from the socialization, competition, and achievement of sports and competition.
Pickleball in Des Moines, Iowa, is growing rapidly to meet demand. The Des Moines Metro Pickleball Club was formally organized as a group of just 17 members in 2017 and has since grown to become a volunteer-run nonprofit organization partnering with multiple municipalities in the state.
Smash Park, a pickleball entertainment venue originating in Des Moines, is also expanding into other states in the Midwest. Players of all ages and skill levels are encouraged to play, and pickleball clubs and centers organize games in various ways to attract a diverse network of players.
EVERYONE CAN FIND CHEAP INSURANCE


Get a free quote to find 
cheap insurance
 matched to your needs and budget.
Disc golf
Like pickleball, disc golf is accessible, low-intensity, and combines the outdoor benefits of walking and being in a natural environment, often a local park. The sport is cost-effective and social, and many older adults enjoy the exercise and camaraderie from the competition.
Although the outdoor courses contain the diverse topography and nature of traditional golf courses, disc golf is significantly more accessible for all players. There are no bookings, score cards, or hefty membership fees. These factors may be why the Professional Disc Golf Association saw a 27% increase in membership in those 50 and older, signing up over 26,000 new members in 2020.
UDisc publishes a nationwide disc golf course directory that tracks every available course in every state and offers updated information about course conditions and amenities. States in all regions are catching on to the benefits of strong disc golf courses, especially Anchorage, Alaska, where there are 11 courses and several local leagues to join.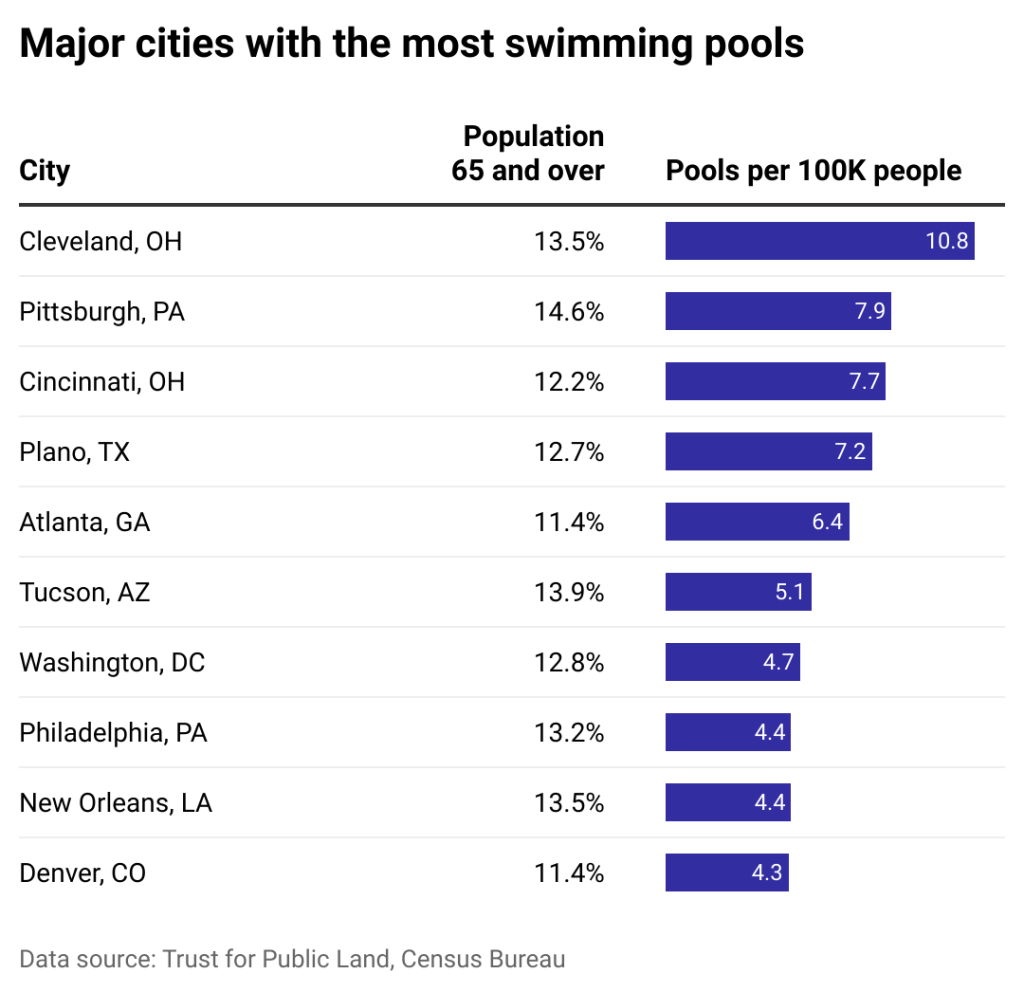 Swimming
Many seniors looking to maintain physical health while enjoying their golden years are turning to swimming. People of all ages report enjoying water-based exercise more than land-based exercise, and they tend to exercise longer and with less effort than exercising on land, a Journal of Aging and Physical Activity study found.
Swimming provides further benefits for retirees because it is a low-impact workout with little risk of injury. The cardiovascular nature of swimming improves heart health and increases muscle flexibility and strength, yet it is gentle on joints.
In some cities, you're just as likely to see a retiree in the lifeguard's chair than out in the water. Lifeguard shortages across the country have caused many city pools to remain closed throughout the summer, and in many cities, retired adults have stepped up to fill the need. Retirees cite the challenge, the physical aspect, and the sense of giving back as perks of the job.
Story editing by Ashleigh Graf. Copy editing by Paris Close.